The collaboration between MKOR Consulting and Beck et al. resulted in the development of case studies for relevant projects. They illustrate the benefits of the services provided by the tech player from Cluj-Napoca, by analyzing the performances of client companies. Due to the inherent practical approach, case studies are a very useful tool for marketing, communication and sales.
Our case studies included clients from very different fields that benefited from the digital services provided by Beck et al. for process optimization (JobRouter) and document management (DocuWare), and thus experienced a visible and moreover measurable increase in performance.
Case Studies to Showcase Performance Improvement
In order to carry out the case studies, the MKOR specialists conducted in-depth face to face interviews with the final clients, at their headquarters in Bucharest, Alba-Iulia, Targu-Mures and Cluj-Napoca.
The interviews were conducted with decision-makers and those directly involved in the projects implemented together with Beck et al.
Finally, the case studies resulted in a series of bilingual marketing, communication and sales materials (Romanian and English):
Presentation brochure (mini-audit report);
Infographic summarizing main Challenges, Benefits and Results, after the first 1-2 years of the collaboration;
Press release with the most interesting data from the case study.
The materials are successfully being used in direct sales, as well as in marketing actions, being promoted at events, in specialized magazines and on the Beck et al. website.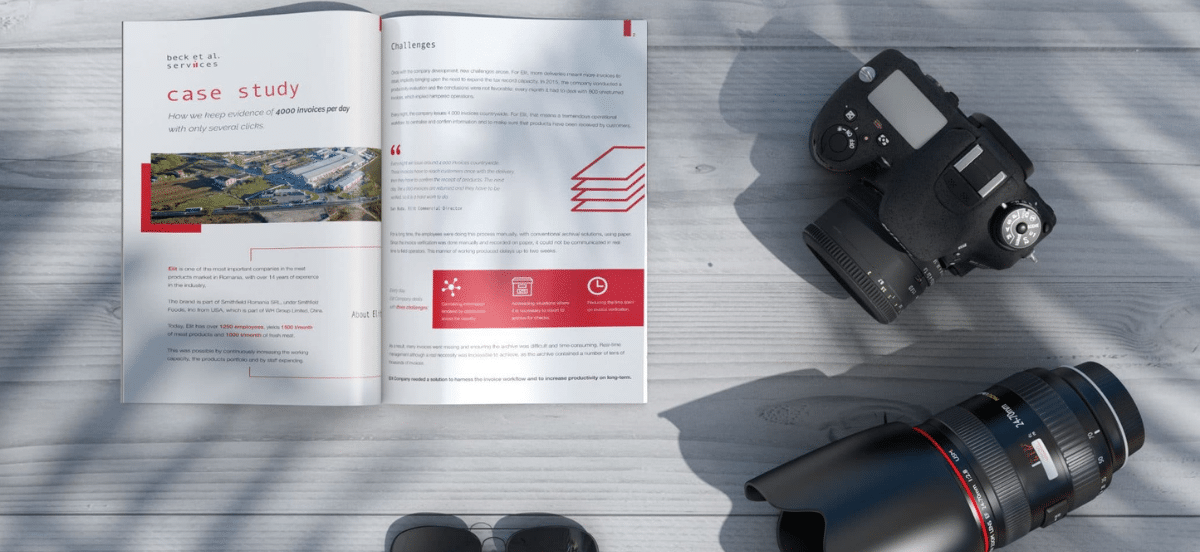 Case Studies Examples
As a result of the collaboration with MKOR Consulting, Beck et al. benefited from several case studies that are relevant to its portfolio, as they reflect the professionalism and performance of the provided digital services:
The Objectives of the Case Studies
Case studies have their own set of objectives, which can be summarized using a Client Journey, from problems to measurable solutions and results. Shortly, they can be structured as follows:
Initial challenges
The solutions proposed by Beck et al.
Implementation (including difficulties encountered)
Details of the collaboration
Results
Benefits
Future perspectives
Target market: Romania
Methodology: Qualitative (in-depth interviews)
Approach:
Graphic design for the case study
Copywriting for marketing and sales materials
Writing the press release
About Beck et al.
Beck et al. Services is a project-oriented company and offers complete IT services. The company operates internationally, with locations in Germany, Switzerland, Romania, Brazil and Singapore. The company has been globally present since 1989, and has been operating in Romania since 2005. It is a reliable partner for its customers, providing advice, implementation and support in accelerating the digital transformation.
Appreciation according to the services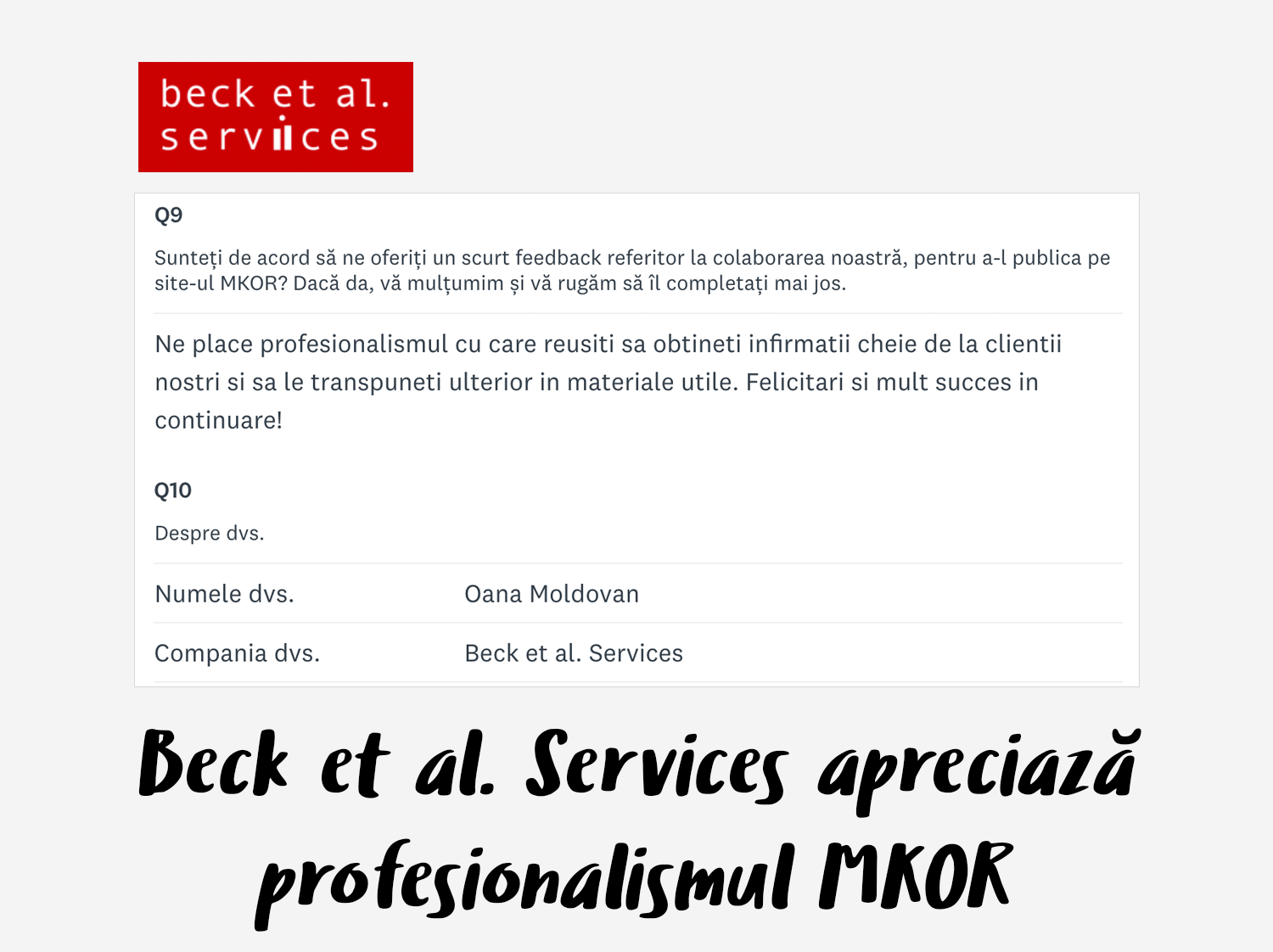 Contact us for your project
When it comes to case studies, we enjoy conducting them because they focus on the bright side. The discussion does start with challenges, but it continues with solutions and results measured over time. And this is why these kinds of interviews are among our favorites.
So, if you feel like you want to uncover valuable insights from your current or potential customers, but you don't know how, we can take care of it for you! 🙂
In every collaboration we initiate, we guarantee that:
We will choose the right methodology to achieve your objectives,
We will conduct the project at a high quality level,
The end results will exceed your expectations.
Let's talk! We are just a video-call away. 🙂
MKOR studies during the COVID-19 pandemic
The COVID-19 pandemic impacts consumption behaviors in ways that are difficult to predict. In this context, MKOR consultants are up to date with the latest recommendations of the global research community regarding new approaches that can be used in predicting consumer behaviors.
Similarly, MKOR conducts its own research projects on the impact of the Coronavirus pandemic both in the case of the general population and the business environment. You can download these studies for free from the website section dedicated to Public Research.