MKOR collaborated with an international pharmaceutical company for a study aimed at testing the advertising concept for the launch of a new medicine on the local market.
The research focused on medical specialists, in order to determine which of the proposed advertising concepts performs best and why.
The new medicine is estimated to enter the local pharma market in mid 2022.
Testing the Ads among Physicians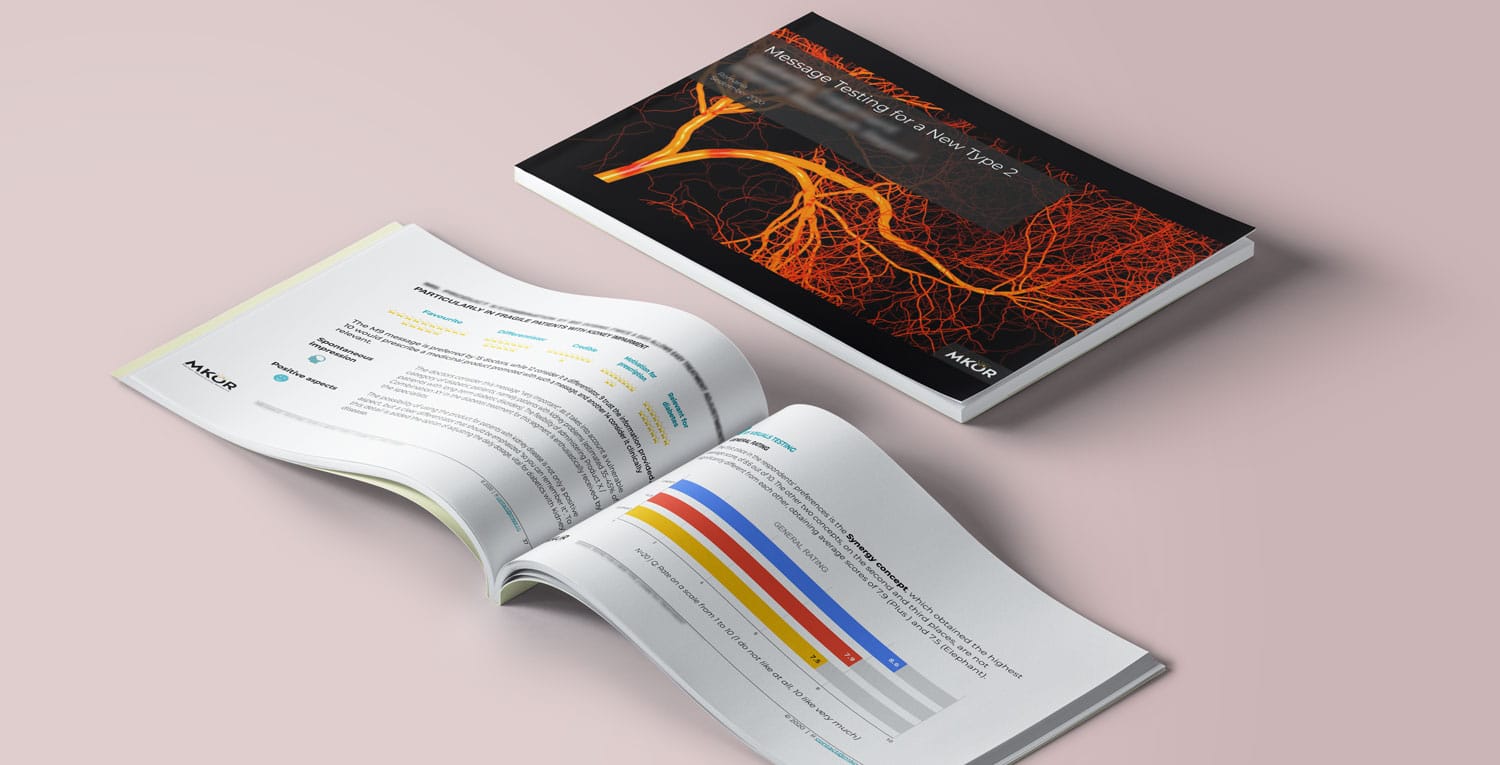 The study was conducted online, with healthcare specialists from both the private and public sector, most of them having over 200 patients under their care annually.
Within the online interviews, we tested how doctors responded to different stimuli:
10 marketing messages (some followed by medical messages);
5 slogans;
3 visual concepts.
Throughout the ad testing process, the name of the manufacturing company was not disclosed to the respondents, in order to ensure the objectivity of the feedback collected.
The analysis of the insights provided by physicians allowed us to identify the most appealing messages, considering the highly competitive landscape in the pharma products market.
Apart from the preferences of the respondents, we also accounted for concept credibility, relevance for the treatment and motivation to prescribe the medicine.
The suggestions of the interviewed specialists informed a series of recommendations to optimize the proposed copy.
Research Objectives
The main objectives of the qualitative study were:
Testing copy performance;
Identifying messages that differentiate;
Testing visual concepts;
Identifying improvement options.
About this Research Project
We used in-depth interviews with healthcare professionals, in order to obtain detailed information on the receptivity of our target audience to the proposed visual and written concepts.
Target market: Romania
Qualitative research: online in-depth interviews with physicians
About the Client
Our client is one of the world's leaders in the pharma market, with a focus on developing medical innovations in such areas as: oncology, infectious diseases, cardiometabolic diseases and vaccines. 
Contact us for your concept testing project
Do you want to make sure that your ads really appeal to your clients? An ad testing research can help you clarify that once and for all. However, you still haven't decided who's going to conduct the study for you?
We, the MKOR specialists, assure you that together we will choose the most appropriate methodology for your research project, so that the end results will exceed your expectations.
Let's talk over a video call. 🙂
MKOR studies during the COVID-19 pandemic
The COVID-19 pandemic impacts consumption behaviors in ways that are difficult to predict. In this context, MKOR consultants are up to date with the latest recommendations of the global research community regarding new approaches that can be used in predicting consumer behaviors.
Similarly, MKOR conducts its own research projects on the impact of the Coronavirus pandemic both in the case of the general population and the business environment. You can download these studies for free from the website section dedicated to Public Research.