Paysilvania is a Romanian company that intends to launch a new online payment service in Romania, aimed both at end consumers and the business environment.
In this context, in order to better understand the specifics of the money transfer market in the business environment, Paysilvania delegated MKOR to carry out a market study to explore the potential use in the business environment of the facilities offered by the app.
Characteristics of the online payment services market in Romania
The qualitative research highlighted for our client the potential adoption of decision-makers or people responsible for banking operations in Romanian companies to online payment services.
We have identified the profile of B2B customers that fall within Paysilvania's target audience, as well as the likelihood that they will use our client's services.
We also formulated recommendations, based on the data obtained, for the next strategic actions of our client.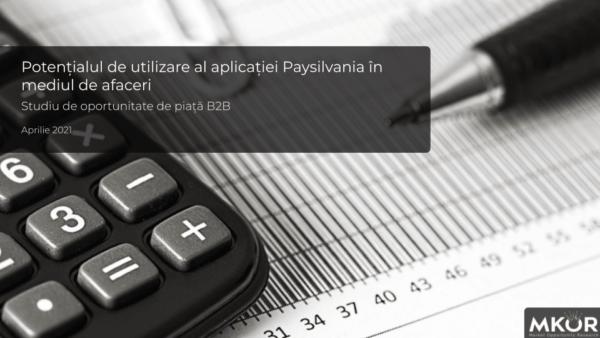 Research objectives
The main objectives of the study were:
The potential use of the app in the business environment, its perceived benefits and limitations
Identifying the availability of payment to access the platform
Identifying the profile of the ideal user
About the research

This study involved primary research, collecting data directly from the source through online opinion survey.
Target market: online payments market
Type of research: qualitative
Research Tool: Online Opinion Survey (CAWI)
Target audience: N=57, decision-makers or people responsible for banking operations in Romanian companies
About Paysilvania

Paysilvania is a Romanian company operating on the money transfer market. The company offers services to end consumers in the country, as well as to companies operating locally.
Contact us for your project
At MKOR, any study is a new challenge that we approach with passion and professionalism because we know that data is a resource you can always rely on.
We collect valuable information directly from the source (consumers, competitors) and turn it into actionable recommendations for our partners.
Tell us if we can help you too! We, the MKOR team of consultants, assure you that:
We will choose the right methodology to achieve your goals, taking into account the macroeconomic and social context.
We will carry out the project at a high level of quality.
The results you will receive in the end will exceed your expectations.
Your company's next project is a video call away, contact us!
MKOR studies in the context of market uncertainty
Recent experiences (pandemic, war in Ukraine) have made us feel that uncertainty is the only constant, and real-time access to market changes can make all the difference.
That is why, at MKOR, we respond to the need of insights regarding Romanian consumers through the first real time market study – Consumer Trends.Live. This complete market intelligence tool is the only resource that constantly provides data on the analyzed markets, no matter what happens.
Gain the competitive advantage with market data, which you discover in real time, with a single click in our interactive dashboards!