The collaboration between BSG Amanet & Exchange and MKOR started in 2020, when our client wanted an annual market audit. The audit aims to determine our client's positioning on the Romanian pawnshop and foreign exchange market.
The company used the data obtained from the competitive environment analysis and its identified strengths to fundament its positioning strategy and adapt its marketing communication.
In 2022, BSG Money Exchange called on MKOR to conduct a perception study on the currency exchange transaction acceptance form offered in its agencies, while also measuring the satisfaction level of its customers in 20 cities across the country, with the aim of improving customer experience.
Customer perception and satisfaction of BSG Money Exchange
After analyzing BSG Money Exchange customers' perception of the currency exchange transaction acceptance form offered in its agencies, we identified its perceived usefulness as well as the level of trust towards the brand.
Regarding the level of customer satisfaction, the data obtained from the analysis showed that BSG Money Exchange is a valued brand with an above average satisfaction level and NPS score.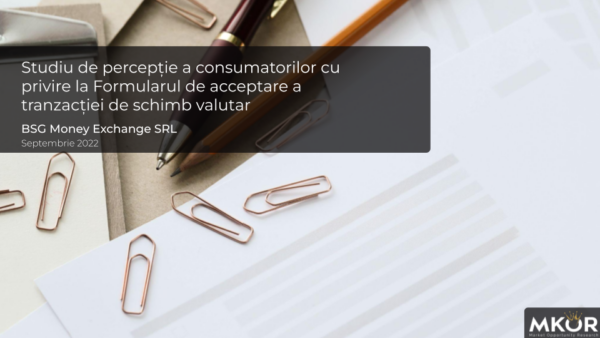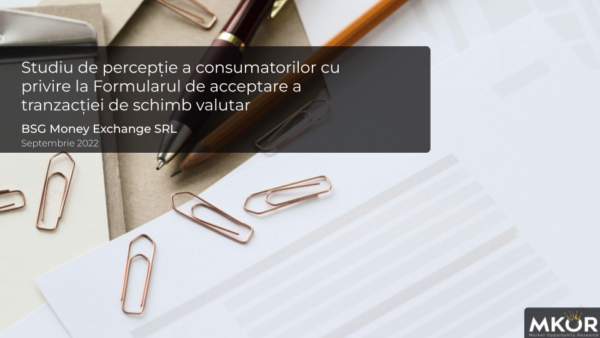 Research objectives
The main objectives of the study were:
Identifying customer perception regrading the Transaction Acceptance Form
Measuring its degree of utility perceived by customers
Measuring the level of customer satisfaction regarding BSG Money Exchange services, as well as identifying weak points
BSG Money Exchange agency NPS score measurement in 20 agencies across the country
About the research

This study was conducted through a face-to-face questionnaire in BSG Money Exchange locations (Computer-Assisted Personal Interviewing – CAPI) upon exiting the agency, following a foreign exchange transaction.
Target market: customers of BSG Money Exchange services
Type of research: quantitative
Research instrument: face-to-face questionnaire (CAPI)
Target audience: N=1000 from 20 BSG Money Exchange agencies in Romania
About BSG

The BSG Amanet & Exchange company is among the top foreign exchange and pawnbroking companies in Romania, owning over 130 agencies in 27 counties and having a team of more than 450 specialists whose quality services daily satisfy customers from all locations in which activates. Customers enjoy services such as pawning, selling, currency exchange and bank transfer through Western Union.
Contact us for your project
At MKOR, any study is a new challenge that we approach with passion and professionalism because we know that data is a resource you can always rely on.
We collect valuable information directly from the source (consumers, competitors) and turn it into actionable recommendations for our partners.
Tell us if we can help you too! We, the MKOR team of consultants, assure you that:
We will choose the right methodology to achieve your goals, taking into account the macroeconomic and social context.
We will carry out the project at a high level of quality.
The results you will receive in the end will exceed your expectations.
Your company's next project is a video call away, contact us!
MKOR studies in the context of market uncertainty
Recent experiences (pandemic, war in Ukraine) have made us feel that uncertainty is the only constant, and real-time access to market changes can make all the difference.
That is why, at MKOR, we respond to the need of insights regarding Romanian consumers through the first live market study in the country – Consumer Trends.Live. This complete market intelligence tool is the only resource that constantly provides data on the analyzed markets, no matter what happens.
Gain the competitive advantage with market data, which you access in real time, with a single click in our interactive dashboards!