Within the study conducted with MKOR Consulting, Sun Plaza followed consumer's behaviour in order to identify the most appreciated ways of spending leisure time.

The study was conducted two stages, one for gathering information about the mall's clients, and the other one for analysing the ways of spending leisure time that clients have or what they wish for, when they visit their local mall.
Geographic segmentation study
The study included an interactive field study and data analysis using a randomized representative sample consisting of mall's visitors.
Usage and attitudes study: ways of spending leisure time in the mall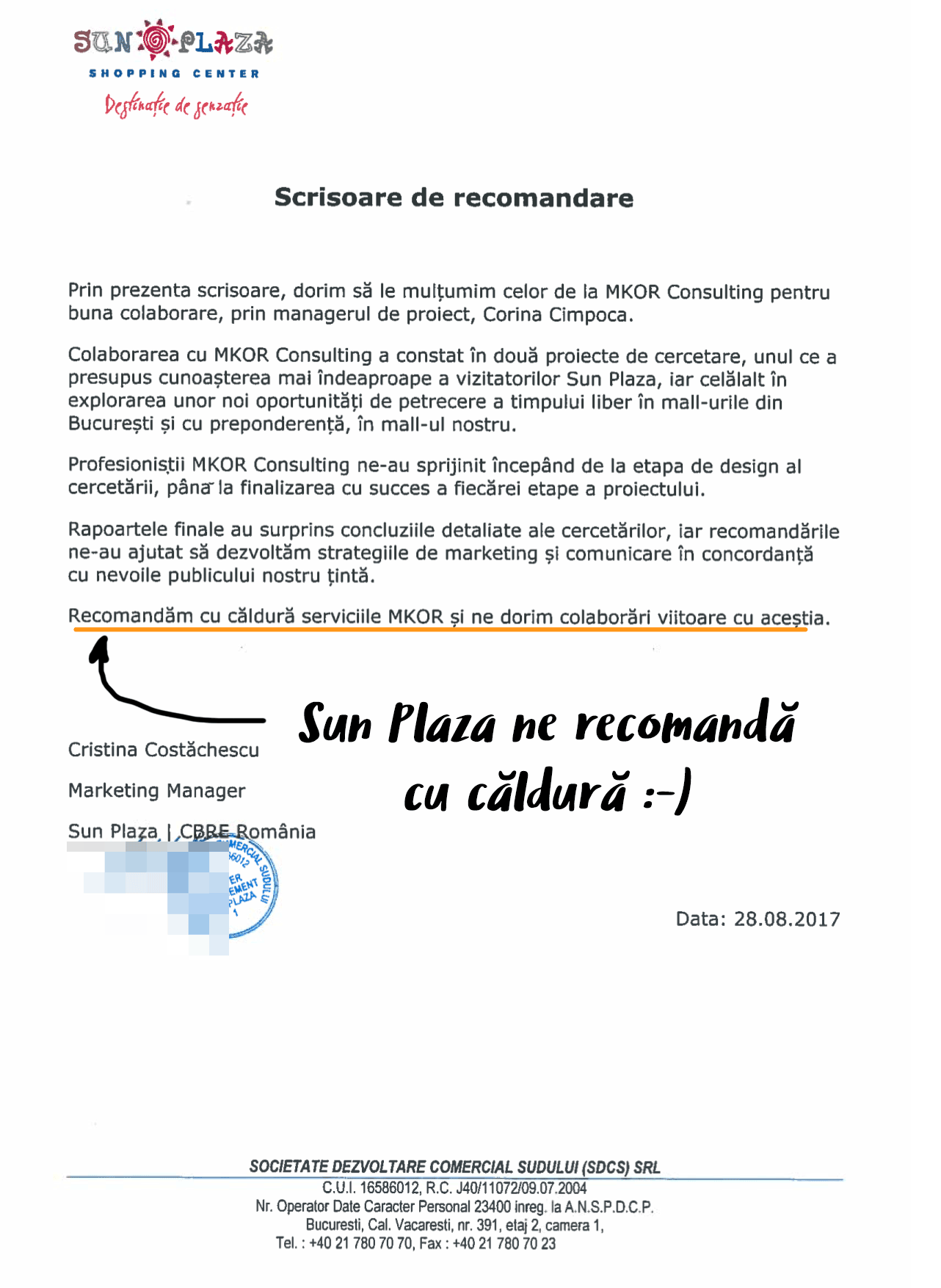 The approach used in this study consisted in identifying consumer's preferences regarding leisure activities in the mall.
The objectives were measuring the consumer's favorite ways of spending leisure time at the mall in generally, and identifying new development opportunities for the mall.
Target:
Methodology
Desk research
Online questionnaires (MKOR's own panel)
Face to face questionnaires
About Sun Plaza
Sun Plaza is the dominant retail center in the southern part of Bucharest, with a built area of ​​208,000 sqm, owned by S IMMO AG and managed by CBRE Romania. They are an all-inclusive center with a balanced retail mix, with over 170 shops and leisure venues, such as cafes, a cinema, bowling and billiards centers, children's specialties and a generous food court. .
Testimonial
The final report included researcher's detailed conclusions, and recommendation that helped us develop marketing and communication strategies in accordance with the targeted public's needs. We strongly recommend MKOR's services and we want further collaborations with them.


– Cristina Costăchescu — Marketing Manager Sun Plaza
MKOR studies in the context of COVID-19
The COVID-19 epidemic impacts consumer behavior at unpredictable levels. In this context, MKOR consultants are constantly informed about the approaches recommended by the research community, to be able to include them in the predictions of consumer behavior.
MKOR also conducts its research projects on the impact of the coronavirus epidemic, both in the general population and in business. You can download them for free from our studies section.