40% of Romanians purchased perfumes for the holidays in early March
Consumers also preferred make-up products (14%) for March 1st and 8th
Items such as bags and belts were chosen by 1 in 10 fashion shoppers
Romanians purchased Care & Beauty products for the holidays in early March
According to the monthly data provided by the Consumer Trends.Live platform, the most sought after products for the holidays dedicated to women were the Care & Beauty products.
40% of Care & Beauty shoppers purchased perfumes for March 1st and 8th, an increase in purchasing compared to the beginning of 2022.
Perfume purchases increased by 5% compared to the previous month, and the increasing trend was also observed in the make-up category- 14% of consumers purchased these products at the beginning of the current month.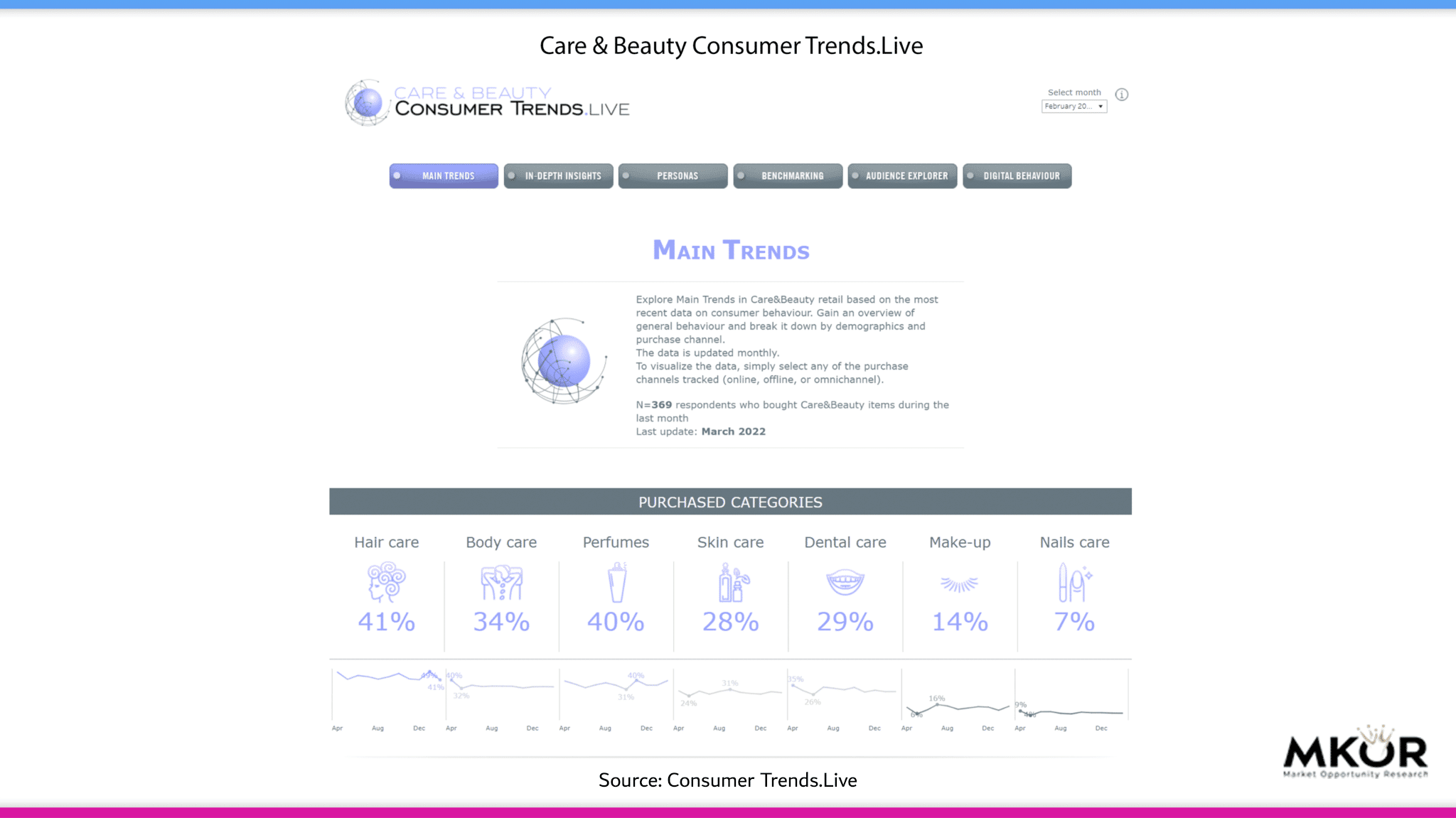 Care & Beauty consumers' preferred shopping channel
In general, Care & Beauty consumers prefer to shop offline (61%). Specialised shops in shopping malls (30%) and hypermarkets (24%) are the main purchasing channels for care and beauty products.
Approximately 3 out of 10 Romanians purchased perfumes and makeup products from online shops, to offer them as presents.
The average budget spent per shopping session for items dedicated to women was 178 RON, 6% higher compared to the previous month.
Men spent, on average, more money than women during this period (185 RON versus 170 RON), eMAG being their preferred retailer.
Brands preferred for perfumes and make-up shopping
As for the preferred retailers for perfume purchases, Care & Beauty consumers chose Avon (12.1%), Douglas (12.1%) and eMAG (11.2%).
The average shopping basket for perfumes was 204 RON, up 4% compared to the previous month.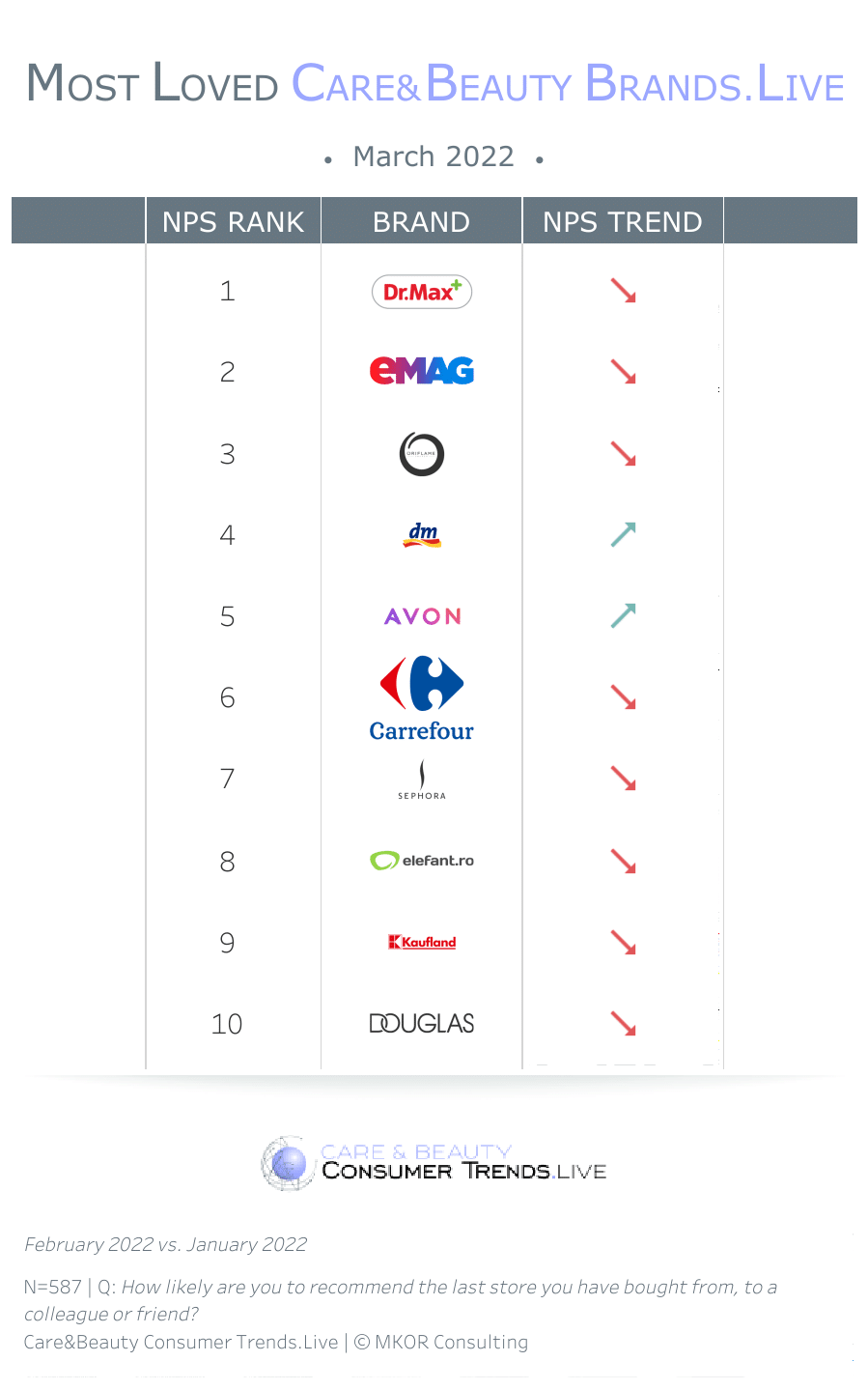 Get the top live (embed):
Top most loved Care & Beauty brands is updated monthly and can be accessed free of charge 24/7 in the Consumer Trends.Live platform.
For the up-to-date brands top and market share data regarding care and beauty retailers, access Consumer Trends.Live data>
Purchases of bags and belts have doubled
Fashion Consumer Trends.Live data show that 1 in 10 Fashion consumers (10%) purchased bags and belts for March, twice as much as in the previous month.
More than half of them (51%) chose specialised stores in shopping malls for these purchases, second-hand brick and mortar stores being the second preferred option (16%).
The 3 most sought-after retailers were Adidas (18.5%), Deichmann (11.1%) and eMAG (7.4%).
Regarding the budget allocated to general fashion purchases, we noticed that men spent, on average, more money than women (344 RON versus 269 RON), their preferred retailer being Bershka (31%).
They also spent more money than budgeted for general fashion purchases for March (344 RON versus 305 RON).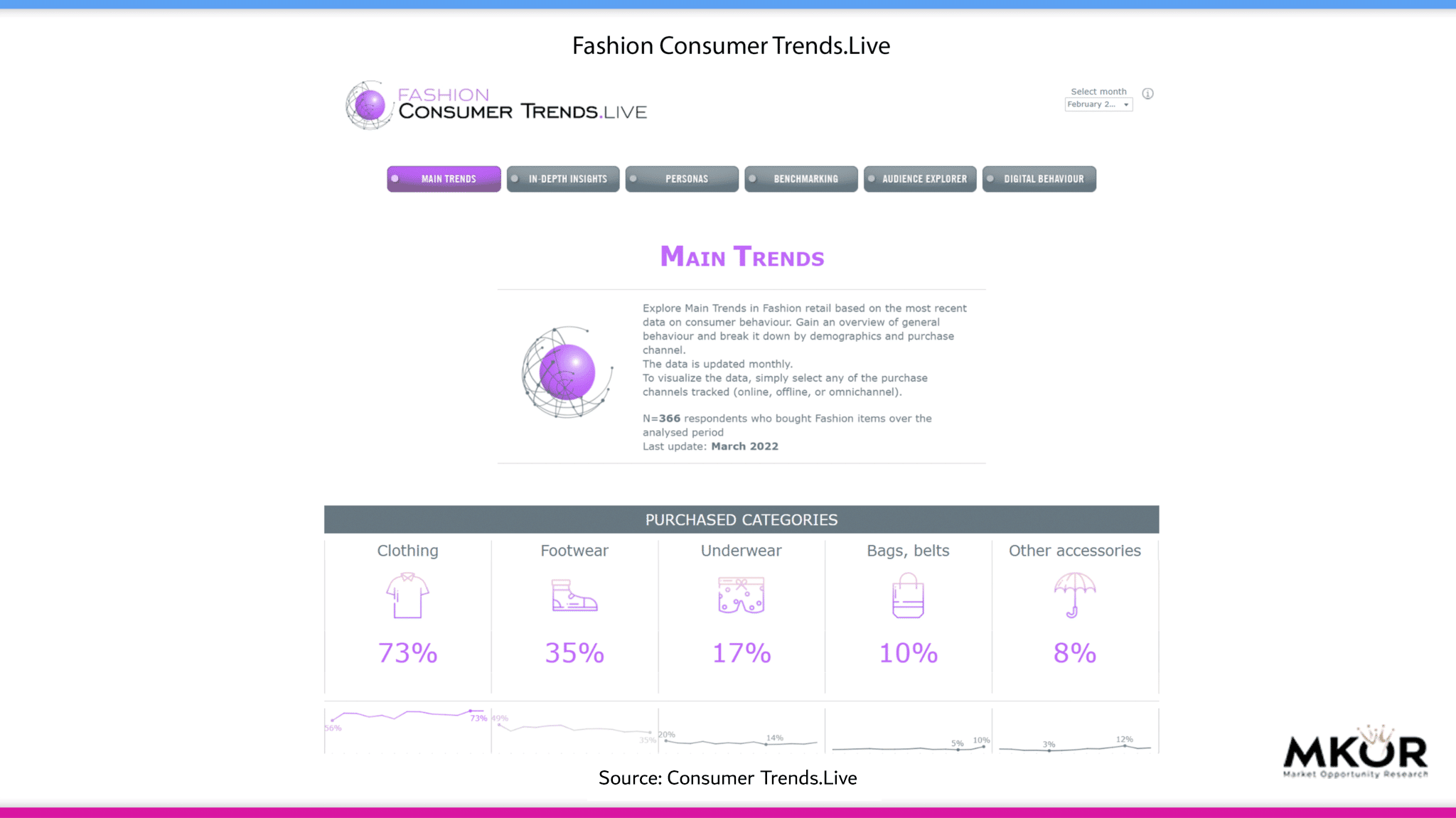 We introduced Care & Beauty Consumer Trends.Live at Retail.ro
Corina Cimpoca, founder of MKOR Consulting, underlined the competitive advantages that Care & Beauty Consumer Trends.Live offers in the Retail.ro interview, hosted by Anca Olteanu, the publication's editor-in-chief.
Consumer Trends.Live is my dearest project. We first thought about it two years ago and it was born out of the desire to see, as much as possible, what is happening in the market in real-time.

When we think about data, we are used to have to wait for it, because it takes time to collect, process, analyse, and draft a report. This usually takes two months, and the report is only a snapshot of a finite period in time. It's a pretty big effort, it's expensive and it makes sense if the demand comes from bigger players who can afford it.

I wanted to bring research closer to entrepreneurs, small boutiques, as well as, of course, big retailers because they are the ones targeted in our study.

The huge advantage is that data is updated in real-time; we collect monthly data using representative samples and we analyse how market trends evolve.

When data comes together, it allows us to see the patterns, to analyse them, things that are not normally at hand. Usually, the surveys are done once a year, at most twice a year. But then, if you analyse the market you activate in only once a year, you may lose aspects of seasonality or small nuances of the market that can help you adapt much easier, said Corina.
Consumer Trends.Live methodology
The Consumer Trends.Live study provides real-time access to market data, directly from the consumer.
Sample: minimum monthly N = 400 respondents
Sample characteristics: national representative by gender, age and region. 95% confidence level, max. Error +/- 5%
Target: general population of Romania aged between 18 and 65 years
Research method: opinion poll
Instrument: questionnaire
Data viewing: interactive online dashboard
Approach: online, through the MKOR Panel
Discover Consumer Trends.Live
Consumer Trends.Live is the first real-time retail market study in Romania, innovating market research.
Retailers now have real-time access to data from their market of interest, directly from the consumer, to fundament their business strategy on up-to-date market information so they can remain relevant to the target audience and one step ahead of the competition.
From early 2021, we monitor 7 different retail markets through Consumer Trends.Live:
Fashion
Care & Beauty
IT&C
Jewelry & Watches
Appliances
DIY
Home & Deco (coming soon)
The Consumer Trends.Live platform can be explored in a demo session with an MKOR consultant. The following are available during this session:
Consumer Trends.Live dashboard
The benefits of the platform
Recommendations for extracting the data necessary for the business strategy