eMAG holds first place in Appliances, IT&C,

Jewelry & Watches

, Care & Beauty and Fashion online purchases
Altex is the first choice of Romanians when they purchase IT&C from brick and mortar stores
The local retailer Dedeman ranks first in the top of preferences for Home & Deco shopping
Preferred purchasing channel for Romanian brands
The Evolution of Purchase in Q2-Q3 2021 Report data are obtained by MKOR Consulting through the monthly monitoring platform of consumer behaviours, Consumer Trends.Live.
According to these data, Romanian consumers prefer to purchase online Fashion, Care & Beauty, Jewelry & Watches, IT&C, Appliances, and Home & Deco items from local retailers.
Local retailers are preferred by online shoppers
eMAG is the first choice of consumers in 5 of the 6 industries analysed in the Evolution of Purchasing Habits Report in Q2-Q3 2021. The brand holds first place among the top 10 retailers in Fashion, Care & Beauty, Jewelry & Watches, IT&C and Appliances when it comes to online shopping.
The IT&C market is dominated by Romanian retailers: 8 of the top 10 online shops are local brands, and 5 out of 10 preferred retailers for offline shopping are local brands.
In the Home & Deco market, the Romanian retailer Dedeman is preferred both for online purchases and for brick and mortar ones.
In terms of shopping in brick and mortar stores, Romanians choose local brands when purchasing:
Jewelry & Watches (B&B Collection)
IT&C (Altex)
Appliances (Altex)

IT&C products are purchased mainly from local brands
The leader in IT&C online shopping is eMAG, preferred by over half of consumers (53.9%).
This sector is generally dominated by Romanian retail brands (8 out of 10), which sum up over 75% of the market shares allocated to the top 10 players. eMAG is followed by Altex, PC Garage, Flanco, Digi / RDS, CEL, Media Galaxy and Quick Mobile.
More than 4 out of 10 consumers choose Altex when shopping IT&C products offline, the leader in this segment with an incidence of 41.8%. The top 10 retailers in terms of offline purchases are eMAG, Media Galaxy, Flanco and Digi / RDS. The top is completed by international telecom players and FMCG retailers.

Fashion market, dominated by major international retailers
The Romanian Fashion retail market is dominated mainly by international retailers. The only Romanian brands in the online purchases top 10 are eMAG (11.5%) and Fashion Days.
The French retailer Decathlon, which sells products made or assembled in Romania (marked with "Made in Romania"), ranks first in offline purchases of clothing, footwear and accessories.

Care & Beauty products, purchased primarily from supermarkets
Care & Beauty products are generally purchased from supermarkets and hypermarkets.
1 in 4 consumers choose Romanian brands when they purchase Care & Beauty products online. The preferred local retailer is eMAG (18.3%), followed by Elefant.ro and Farmacia Tei.
When it comes to brick and mortar shopping, the only Romanian retailer in top 10 is Farmec.

Jewelry & Watches, purchased mainly from Romanian brands
1 out of 4 consumers buy Jewelry & Watches online from eMAG (25%). Local retailers make out 6 of the 10 online shopping most preferred: Elefant.ro, Altex, Eden Boutique, Fashion Days and Chic Bijoux.
The Romanian brands preferred by consumers for offline shopping are B&B Collection, Altex, Splend'Or, Teilor and eMAG.

Appliances market, dominated by Romanian retailers
More than half of consumers purchase Appliances online from eMAG (59.1%), as well as other local retailers such as Altex, Flanco, evoMAG, Media Galaxy, Dedeman and Ideall.
Also, 6 of the top 10 retailers preferred for offline shopping are Romanian brands. Altex ranks first (45.8%), followed by the local brands Media Galaxy, Flanco, eMAG, Dedeman and Cora.

Home & Deco market, dominated by the Romanian retailer Dedeman
In the Home & Deco category, the Romanian retailer Dedeman is the preferred retailer for both online (19.7%) and offline (32.5%) shopping.
Dedeman is the only Romanian brand among top 10 regarding offline shopping. However, in terms of online purchases, Dedeman is followed by Vivre, SomProduct and Mobexpert.
 Evolution of Purchasing Habits Report in Q2-Q3 2021 methodology
The data are extracted from the Consumer Trends.Live study, between May and October 2021, on a total sample of minimum N = 400, nationally representative based on gender, age (18-65 years) and region, at a confidence level of 95 %, max error +/- 5%. The data are collected monthly through an online questionnaire applied to the MKOR Panel.
Detailed information can be found in the Evolution of Purchasing Habits Report in Q2-Q3 2021.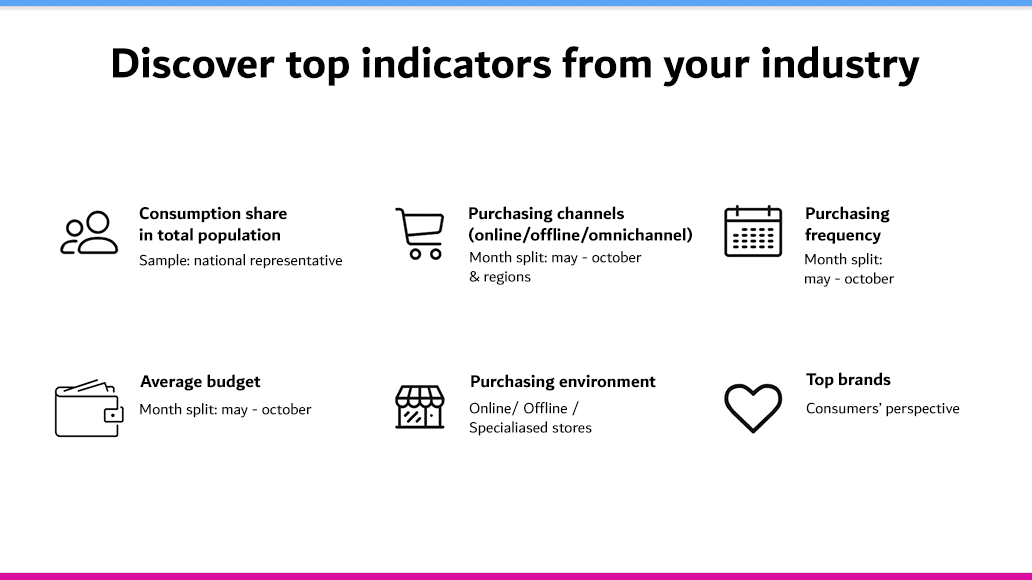 Discover Consumer Trends.Live
Consumer Trends.Live is the first real-time retail study in Romania, which monitors monthly purchasing habits on nationally representative samples based on gender, age (18-65 years) and region, at a 95% confidence level, max. +/- 5%.
Monitored industries: Fashion, Care & Beauty, Jewelry & Watches, Appliances, IT&C, Home & Deco, DIY.
Retailers can now fundament their business strategy on up-to-date market data, and make informed decisions that help them remain relevant to their target audience.
Top Consumer Trends.Live benefits for retailers:
Access to the latest market data, including all available data history (minimum 9 months)
Instant access to market data, compared to 2-3 months in the case of a custom study
Data is available in the interactive live dashboard, in an easy-to-navigate format
A marketing intelligence tool just a click away
The first real-time retail market study is available in a demo session, in which an MKOR consultant will present the dashboard, the benefits of the platform and specific recommendations on how to extract the data needed for the business strategy.
Stay up to date with MKOR
MKOR is an agency that provides complete, data-driven marketing services to help your business grow no matter its size or context.
We believe in the power of information, so we share free updated data from the markets we monitor, combining the benefits of research with the benefits of personalised marketing.
Access the valuable information we regularly communicate to our community.
Subscribe to the MKOR newsletter here >