Romanians purchase fashion (clothing, footwear, lingerie and accessories) on average 2.5 times a month
48% of customers purchased fashion from shopping malls in September
71% of fashion customers purchased clothing items in September, while 41% purchased footwear items
Fashion customers' preferred purchasing channel
According to the monthly data provided by the Consumer Trends.Live platform, in September 2021 most of the customers shopped for fashion items offline (57%). 48% of fashion shoppers preferred specialised stores in shopping malls.
Only 2 in 10 customers (21%) chose to purchase exclusively online, mostly from specialised fashion shops (16%).
22% of consumers purchased fashion items omnichannel.
Evolution of fashion consumption
Fashion Consumer Trends.Live data also shows that most consumers opted for clothing fashion items in September – 71% of them, an increase compared to previous months, marking the beginning of the winter season.
41% of consumers purchased footwear in September, 30% of them choosing to shop online.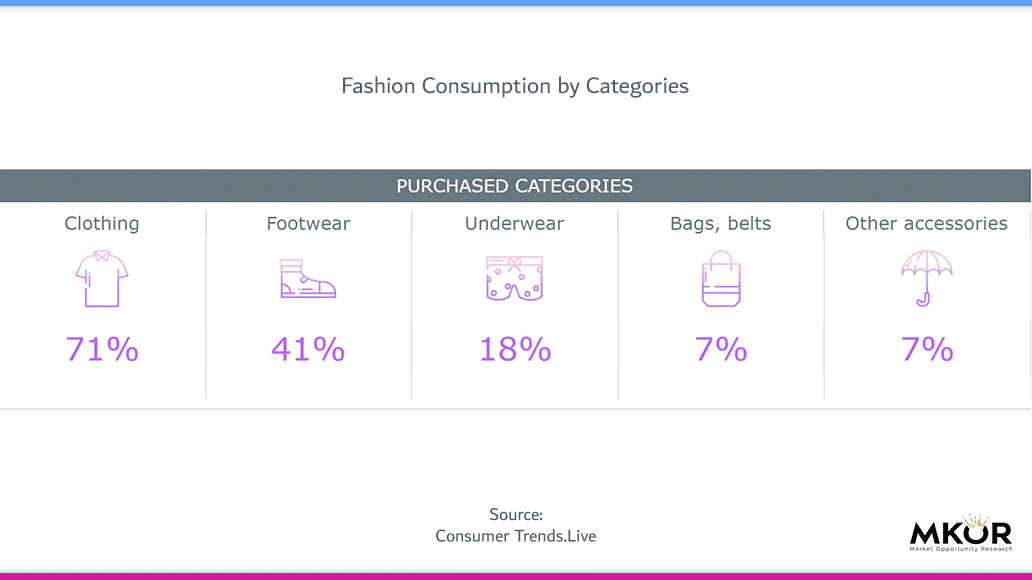 H&M is the first choice of consumers, a brand chosen by most of those who purchased clothing items last month. Second place is held by Decathlon, followed by C&A.
Deichmann is the preferred retailer for footwear shopping, followed by Decathlon and CCC.
Top most loved Fashion brands is updated monthly and can be accessed free of charge 24/7 in the Consumer Trends.Live platform.
For the up-to-date brands top and market share data regarding fashion retailers, access Fashion Consumer Trends.Live.
Main consumption indicators in Fashion retail market in Romania
MKOR Consulting has been monitoring 7 different retail markets through Consumer Trends.Live since the beginning of 2021:
Fashion
Care & Beauty
Jewelry & Watches
IT&C
Appliances
DIY
Home & Deco (coming soon)
The first real-time market study in Romanian retail is updated monthly by the research company MKOR Consulting, using nationally representative samples, based on gender, age and region, of at least 400 respondents.
The real-time fashion retail study offers:
Real-time local fashion market trends monitoring
The possibility to analyse the evolution of the main consumption indicators for all fashion categories
The possibility to analyse consumer segments in the fashion market, by Purchasing Frequency, Budget and Purchasing Channel
Brand monitoring by performance indicators such as Net Promoter Score and Differentiators
The possibility to identify the target audience of each brand analysed
Digital shopping behaviours
The Romanian Fashion audience
The real-time fashion retail market study data provided the possibility to create the profile of Romanian fashion customers.
Romanian fashion customers are Millennials, mostly women, with above-average incomes, living in urban areas, mainly in the Bucharest-Ilfov region.
47% of customers purchase fashion items online. Women purchase more frequently than men, 2.8 times/month, and spend a budget of approximately 773 RON per month.
Fashion customers behaviour
Consumer Trends.Live data showed that the average shopping cart is higher online (314 RON/purchase) compared to the budget spent in brick and mortar stores (282 RON/purchase).
In addition, customers that prefer online shopping tend to buy more frequently (2.3 times/month) than the ones that purchase offline (2.2 times/month).
The biggest challenge for online retailers in Romania remains to find solutions that allow customers to try on fashion items virtually. Almost 1 in 3 online purchases are returned due to the fact that sizes and specifications of the products do not match.
The purpose of this September 2021 real-time fashion report was to identify customer behaviour and the Romanian customers' favourite fashion brands.
Access to detailed data, collected starting January 2021, is available to retailers who want to use up-to-date market data to fundament their business strategy to remain relevant to the target audience and one step ahead of the competition.
Any retailer can request a free Fashion Consumer Trends.Live demo.
Consumer Trend.Live methodology
The Consumer Trends.Live study provides real-time access to fashion market data, directly from the consumer.
Sample: minimum monthly N = 400 respondents
Sample characteristics: national representative by gender, age and region. 95% confidence level, max. Error +/- 5%
Target: general population of Romania aged between 18 and 65 years
Research method: opinion poll
Instrument: questionnaire
Data viewing: Interactive dashboard, online
Approach: online, through the MKOR Panel
Discover Consumer Trends.Live
The Consumer Trends.Live platform can be explored in a demo session with an MKOR consultant. The following are available during this session:
Consumer Trends.Live dashboard
The benefits of the platform
Recommendations for extracting the data necessary for the business strategy