We, at MKOR, are always up to date with the latest research trends. Some trends we research for our own clients, others we discover because of our own projects.
For example:
did you know that 97% of the consumption of fashion products is provided by imports?
or that 65% of Romanians bought clothing online,
and 63% of consumers had digital experiences when shopping for fashion?
We presented these data in the seventh edition of the annual congress Best of ESOMAR Romania, together with the most powerful agencies that set the tone for research. The only congress that focuses on news in market research this year revolved around Building Customer Experience in a World of Discontinuous Loyalty.
Our passion for research goes beyond our daily work, so we constantly inform ourselves and read studies that help us form relevant opinions in the research industry. The Best of ESOMAR Romania 2019 event was an opportunity for MKOR to outline the research trends that will mark future research practices.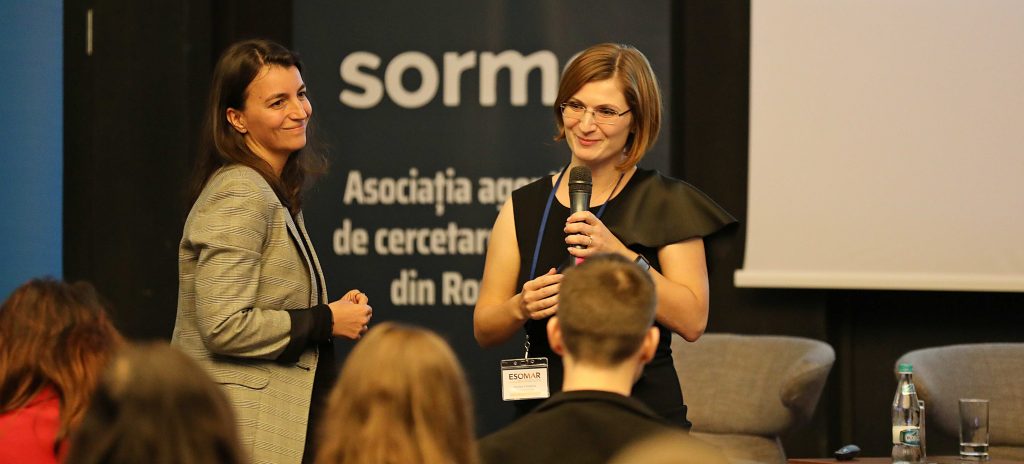 The 11  research trends addressed at the conference are:
1. Innovation and Digitalization in Fashion
In Romania, 65% of consumers have bought clothing products from online stores in the last year. In addition, 57% of Romanians shop online, and digital experiences during shopping sessions were of interest to 63% of consumers.
Following the concept of digitization and wanting to make a strong impact on the experience customers have in their stores, MKOR and NISSA conducted research sessions to identify how they can improve the concept of customer experience.
Other goals we pursued in our research were:
Extending the target to a younger audience;
Increasing the share of online shopping in NISSA's total turnover;
Differentiation in a competitive market.
Research teams were coordinated by our colleague, Corina, and Mara Rizea – NISSA Marketing Manager, who presented the results of the case study at the Best of ESOMAR 2019 event.
În the research project, we evaluated the fashion market in Romania and the development trends of digital retail solutions, globally. Some of the results of this comprehensive sectorial study that MKOR conducts annually were unveiled at Fashion ROute 2018 (romanian).
Also, we interviewed the shops saleas advisors, evaluated their behavior through mystery shopping, before and after the devices were installed.
Thus, we obtained relevant information about the appetite of NISSA clients for technology in fashion, learning that they are "fashionistas", always in tone with fashion, buying the latest collections of known brands.
Growth through innovation has long been a secret, and research plays an important role in exploring trends.
Read our presentation (romanian) on the Sorma website and consult the portfolio page that describes in detail how our digitalization and fashion innovation project was carried out, along with the NISSA brand team.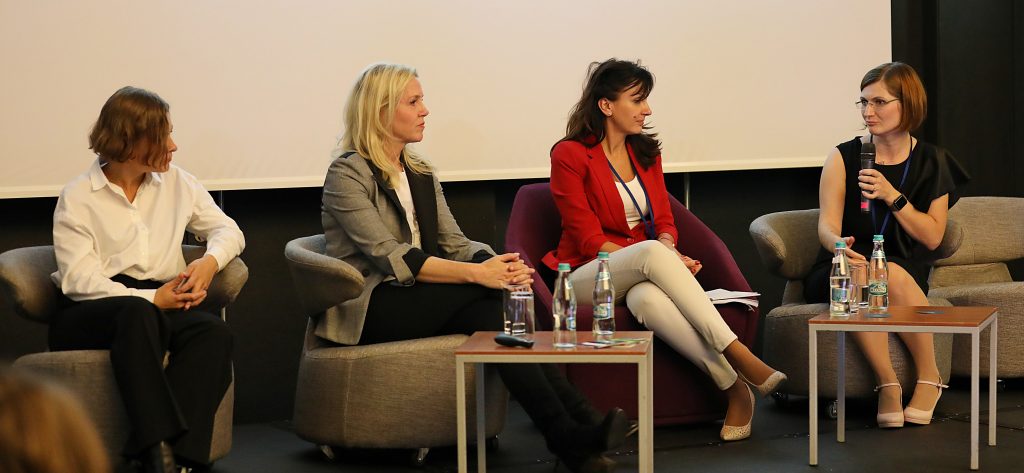 2. Trend Research
One of the special guests of the Best of ESOMAR Romania 2019 congress was Els Dragt, Trend Researcher. Her presentation was built around the idea that researching current changes facilitates the exploration of possible future trends.
According to his presentation, research should revolve around people and focus on their needs. Els drew our attention through his vision on the trend research cycle. It is built of three important steps: Scanning, Analysis and Application.
The first step, Scanning, is defined by Els Dragt as the art of seeing in data beyond barriers, beyond what is obvious. The second step, Analysis is the time when all data is interpreted, creating connections between them. Dragt described the analysis as a multitude of points that research people connect so that they can finally apply them. Application of the interpreted data influences the research innovation process.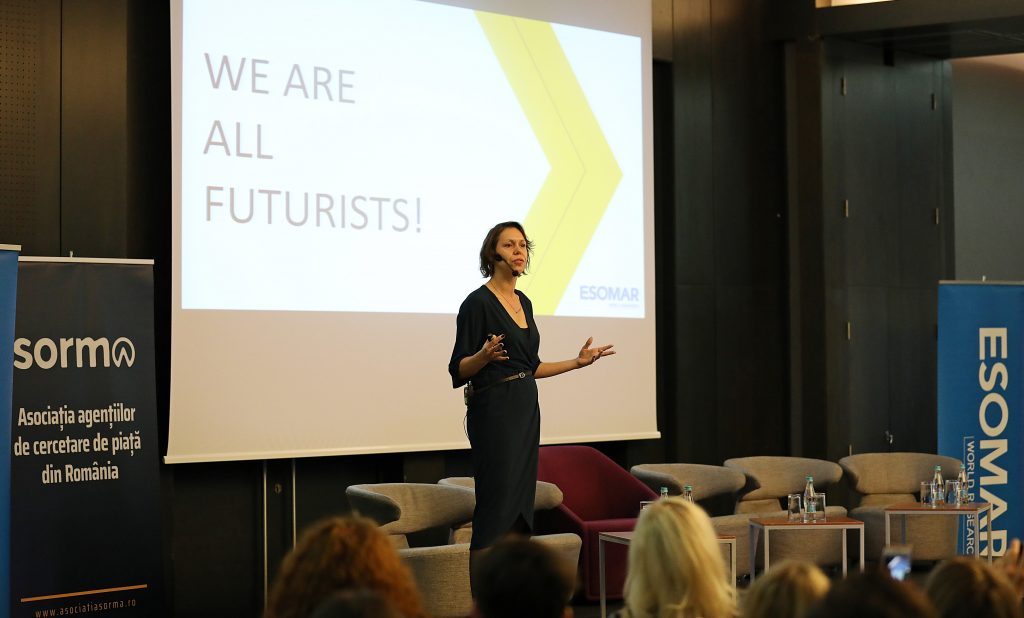 Els drew attention to a very important aspect in research: behavior analysis of innovators and consumers who adopt trends before others, also called frontrunners.
Thus, we have found that the future of research revolves around the consumer, and trends are hidden inside data we collect every day.
At MKOR, we analyze data for our clients, as well as for their own studies, and the presentation of Els Dragt has opened new ways for us to research trends.
3. Mix Information with Creativity
Starting from the idea that research is a rigid process at the moment, Kristin Luck told us at Best of ESOMAR 2019 about the relationship between the data obtained from the research and the creative way in which they are presented.
Research means databases, decoding and percentages. A very large amount of information that research companies must analyze and formulate so that the beneficiaries understand the information extracted. Subsequently, the data collected are the pillars of resistance of the strategies applied by the beneficiaries, according to the objectives from which the research sessions started.
Kristin Luck shows that data presented in research reports can be the engine of innovation, but innovation cannot happen unless the information is easy to understand. What Luck wants to say is that a dash of creativity in data presentation is beneficial to both research companies and their clients.
Over time, research reports have been viewed as a scrap of information that Luck says don't attract attention and bore clients very quickly. This suggests that we always need to think about a mix of information and creativity in order to be able to present relevant data in an attractive and enjoyable way.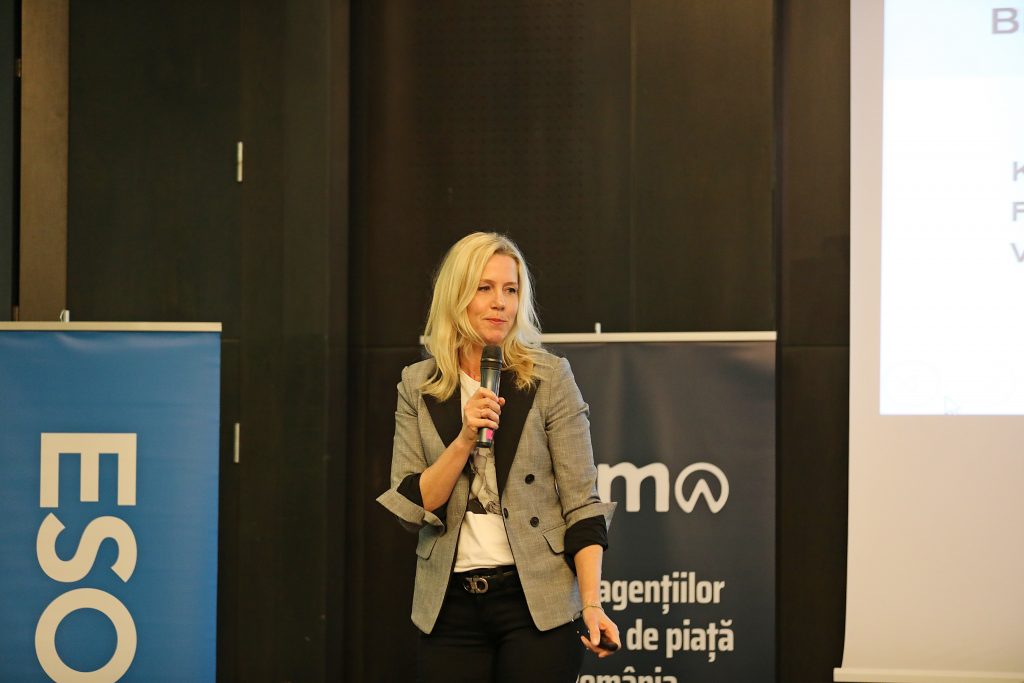 Kristin also drew attention to the way we look at the collected data, so it is not enough to be creative only at the end of the research sessions, but also during them to be able to develop trends that work in favor of the concept of customer experience.
She advises us to start the research process by building a very good relationship between the data we want to collect and the creativity that can bring us one step closer to innovation, permanently listening to the voice of the consumer.
Although we know that figures are important for formulating opinions, we at MKOR are always attentive to the way we deliver the information we find in our research, so we try to be as creative as possible.
4. The Voice of the Consumer
Consumers opinions are starting to matter in recent years for brands that want to offer services and products relevant to customer needs. Thus, consumers have acquired a superpower: the exposure of personal opinions that can influence the value of a brand.
The presentation of Rodica Pop (romaniam) from Gfk Romania focuses on the idea of ​​positioning the consumer in the middle of the entire branding process. Together with George Ciupercă, Samsung Electronics Romania, it has extracted important data about the weight of the consumer's voice for the image of a brand manufacturer of mobile phones.
Although rational arguments are important when deciding whether or not to buy a product, a single negative emotional argument can influence our buying decision. Let's see together what Romanians do before buying a mobile phone:
41% dintre cumpărători își doresc să afle părerea unui expert;41% of buyers want to know the opinion of an expert;
14% of consumers are based on the opinion of ordinary people;
36% use search engines and the internet for reviews;
35% visit physical stores.
5. Net Promoter Score
Net Promoter Score is an indicator by which one can measure the degree of satisfaction and loyalty of a consumer, according to Hotjar. This is obtained through a survey, and the question for extracting information is standard: "On a scale from 0 to 10, how likely is it to recommend this product / service?".
If from the previous presentation we learned that the voice of the consumer influences the image of a brand, from Ioan Simu, Mercury Research, we learn that the brands image depends on the consumers recommandations. In the NPS specific terminology, those who make recommendations, brand ambassadors, are the Promoters (those who give 9 and 10 marks).
He goes on to say that if for some industries such as those that produce and sell laptops or accommodation, Net Promoter Score is beneficial information, for others it is not relevant at all – the banking industry.
We consider this a controversial statement, which we do not support. From experience, customers from all industries rely on NPS as a performance indicator, making decisions to optimize their brands consumer experience every day.
Find out from Simu's presentation (romanian) what are the positive and negative aspects of Net Promoter Score.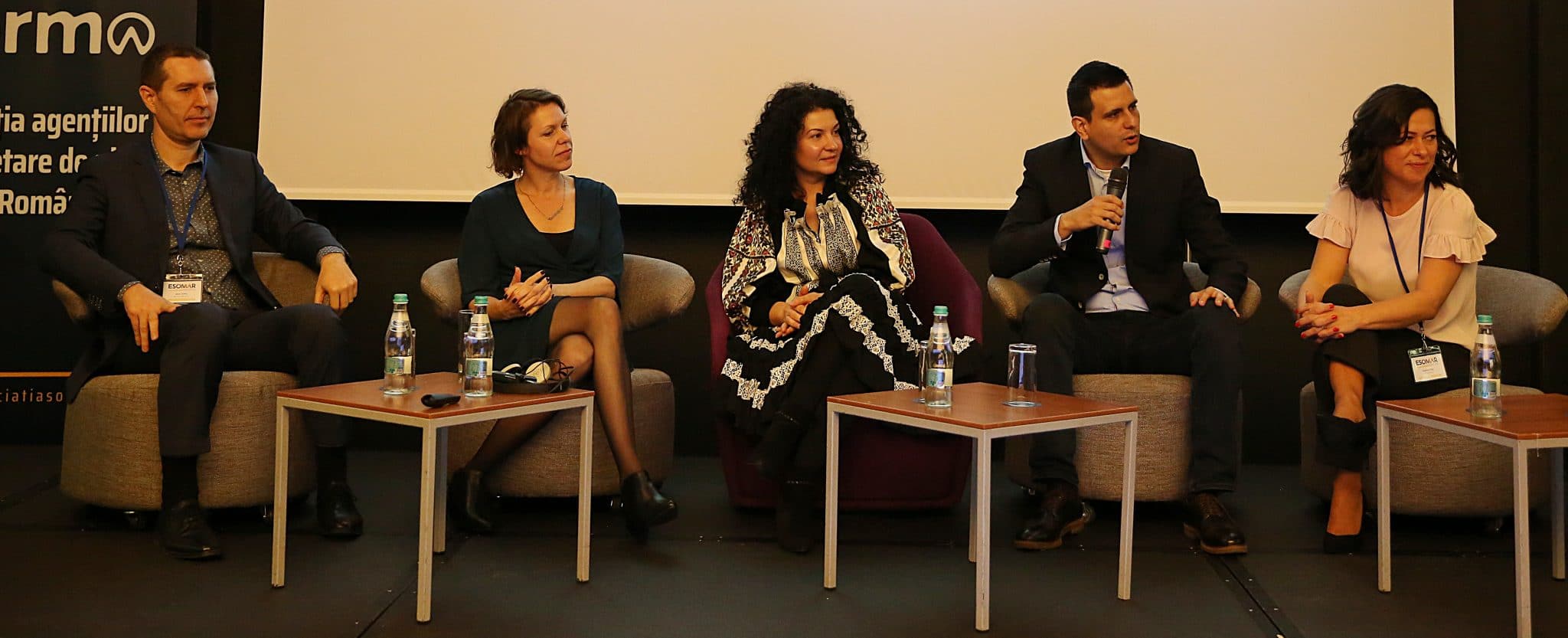 6. Customer Experience in the Banking System
In the banking system, the lack of customer loyalty is generated by the major difference between the brand promise and what it delivers later to the customer.
Andreea Coca, KANTAR TNS, states in her presentation that only 34% of Romanians fully understand what the promise of a brand in the banking system is, while only 18% of Romanian customers have pleasant memories of their last experience with such a brand.
More figures and details on how a brand from the banking system builds a customer experience of the highest quality can be found in Andreea's presentation.
Financial services is among the industries in which we have the most interesting projects, one of our clients this year being TransferGo. For them, we conducted a fintech market research in order to identify the habits, perceptions and attitudes of consumers related to money transfers.
MKOR found out what is the profile of the Romanian consumer who makes financial transfers and we obtained relevant information about the potential of the local money transfer market in Romania. Based on our fintech research (romanian), TransferGo launched the local payment service on the Romanian market.
7. Induction of Expectations
Because we are passionate about research and marketing strategies, many books have passed through our hands to reach the experience we have today. One of the books we read is All Marketers Tell Stories, where Seth Godin talks about setting expectations as an important process in customer experience.
We also came across this idea at the Best of ESOMAR 2019 conference, presented by Andra Constantinescu, Kantar Insights Division. From her we learned that the impact of the market is influenced by branding campaigns: increase of sales, in the short term, reaches a percentage of up to 68% if a consumer already has an expectation created by a marketing campaign.
Advertising sets expectations that define how we perceive a brand and develops experiences by anchoring them in emotions. You can find more information in Andrea's presentation.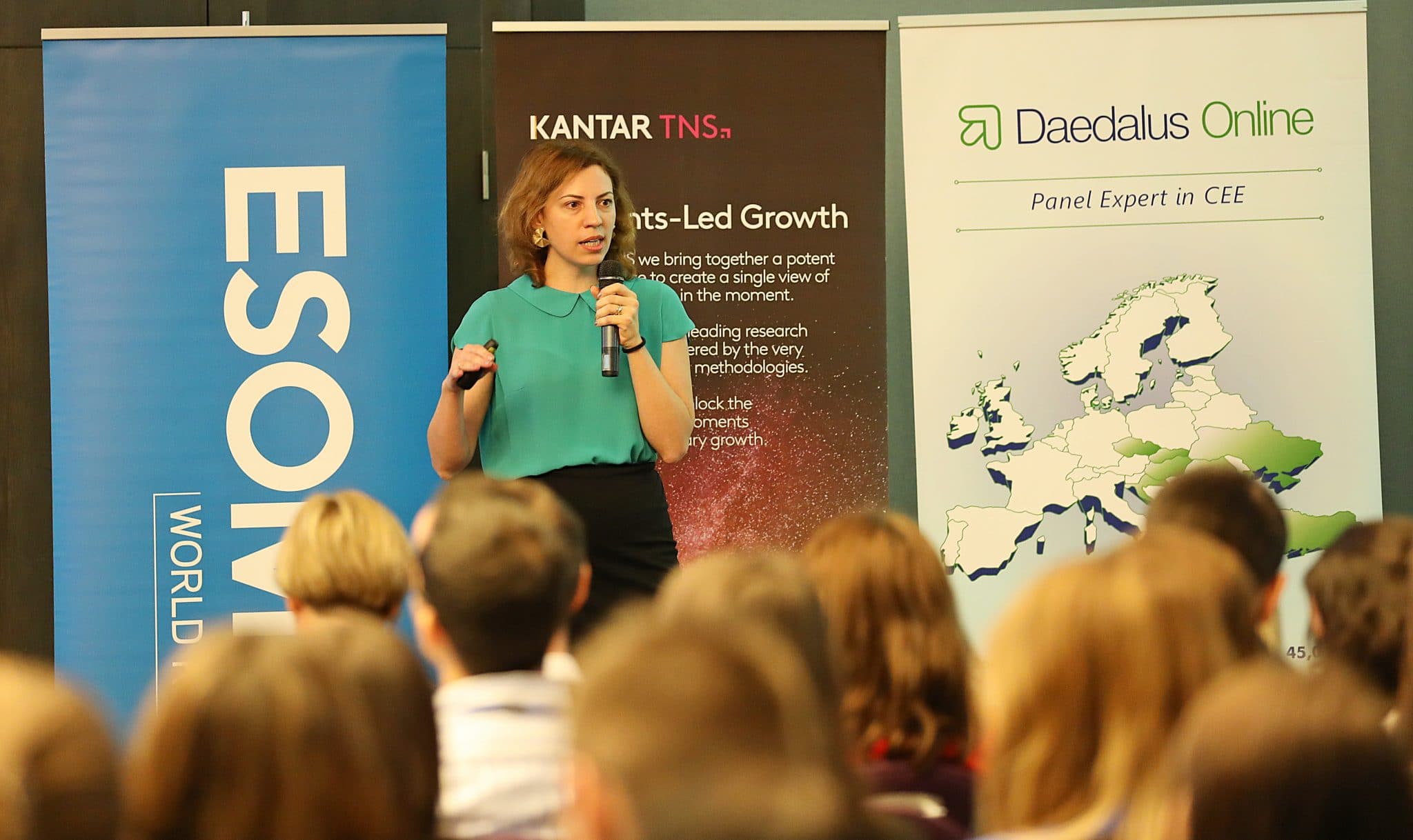 8. Brand Identity and Consumer Loyalty
Andrei Elvadeanu's presentation, iSense Solutions, started from music festivals that captured the scenes in the summer of 2019,  where brands have gone on to convince consumers to buy and live unique experiences.
His case study followed two brands, Ursus and Kaufland, identifying how consumers relate to their products and how consumer loyalty can be influenced by the identity of a brand in the context of a music festival such as Untold.
The most important conclusion drawn from Andrei's presentation is that consumer loyalty is influenced by the relevance of the brand he consumes. The association of a brand with Untold remains a positive factor for it, thus having the opportunity to reach and influence a younger audience.
9. Ethnography, Youth and Retail
Generations change, innovations appear much faster than some time ago, and young people are an important part of many brands' target.
But how do we, marketing and research specialists, provide young people with experiences that matter?
Alexandru Dincovici, IzBIZ Consulting, showed at Best of ESOMAR 2019 how you attract teenagers to your brand. His research has revealed some important aspects about young people that we think you should know.
The most common way of expression among young people is represented by pictures with funny messages called memes. The musical style adopted by them is  Trap, and the places they frequent most often are famous cafes. Another interesting thing from Alexandru's presentation is the fact that young people have started a trend of informal meeting places: outdoor or indoor parking, but also mall terraces.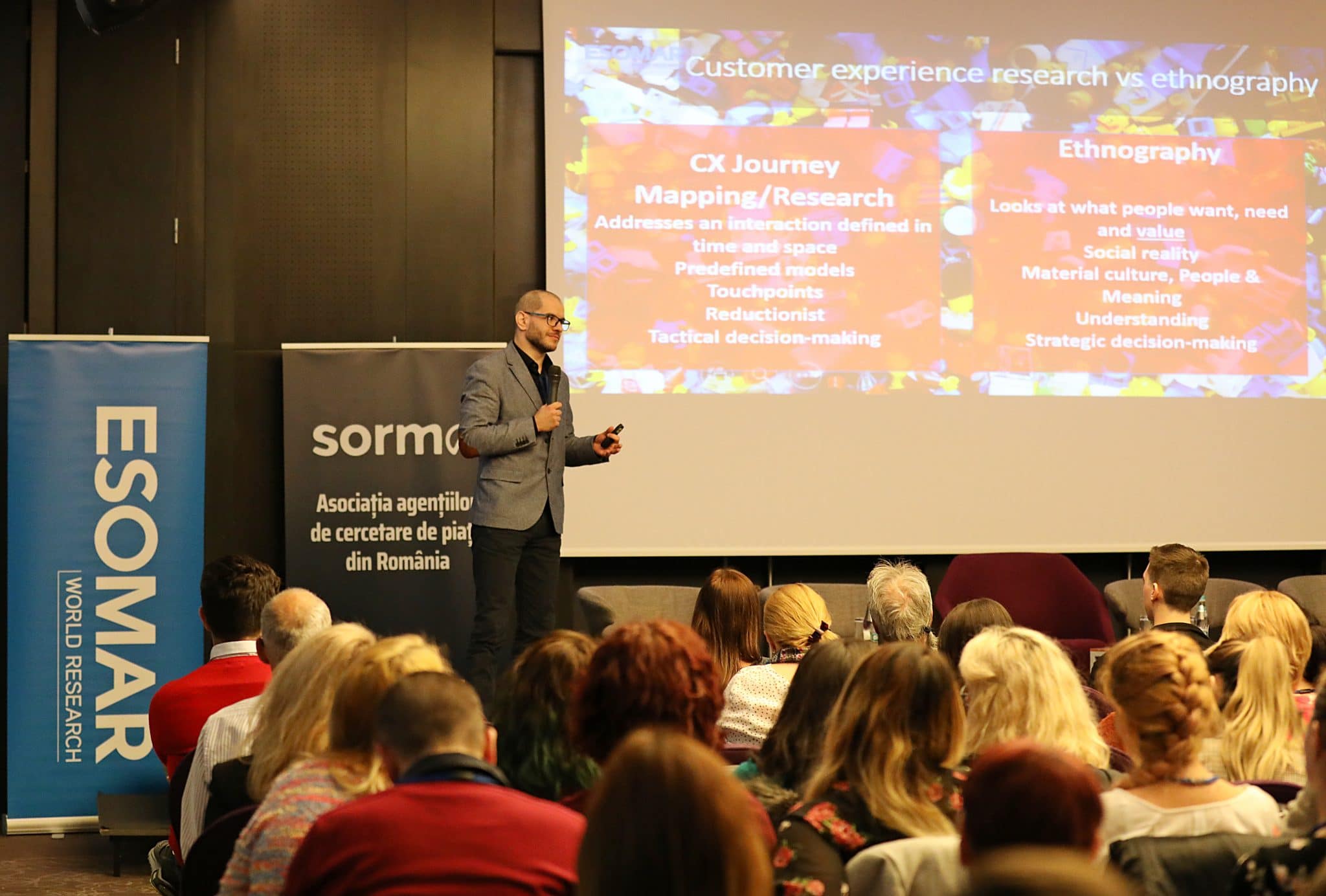 10. Customer Experience in the Public Domain
Towards the end of the event, following numerous presentations that followed the experiences of consumers in relation to existing brands in the market, Daniel Enescu from Daedalus Online proposed to offer us some insights on customer experience in relation to public services.
We were very pleased with his initiative to explore this seemingly arid area and we took some notes that we will share with you.
Did you know that 75.5% of Romanians feel that the public servants behave as if they are doing them a favor, while only 18.1% of Romanians feel that the officials really help them?
The perception on the quality of life in Romania is a very good one, Romanians offering a rating of 7.17 out of 10. This while, according to Deloitte (romanian), in November 2019 Romania fell in the world ranking regarding  quality of life, being surpassed by all the other states that are part of the European Union. In addition, according to Daedalus's research, 50.9% of Romanians want to leave the country permanently.
In his presentation, Daniel Enescu built a broad picture on the experience of the "consumer" of public services, demonstrating the presence and importance of the concept of customer experience in the public domain.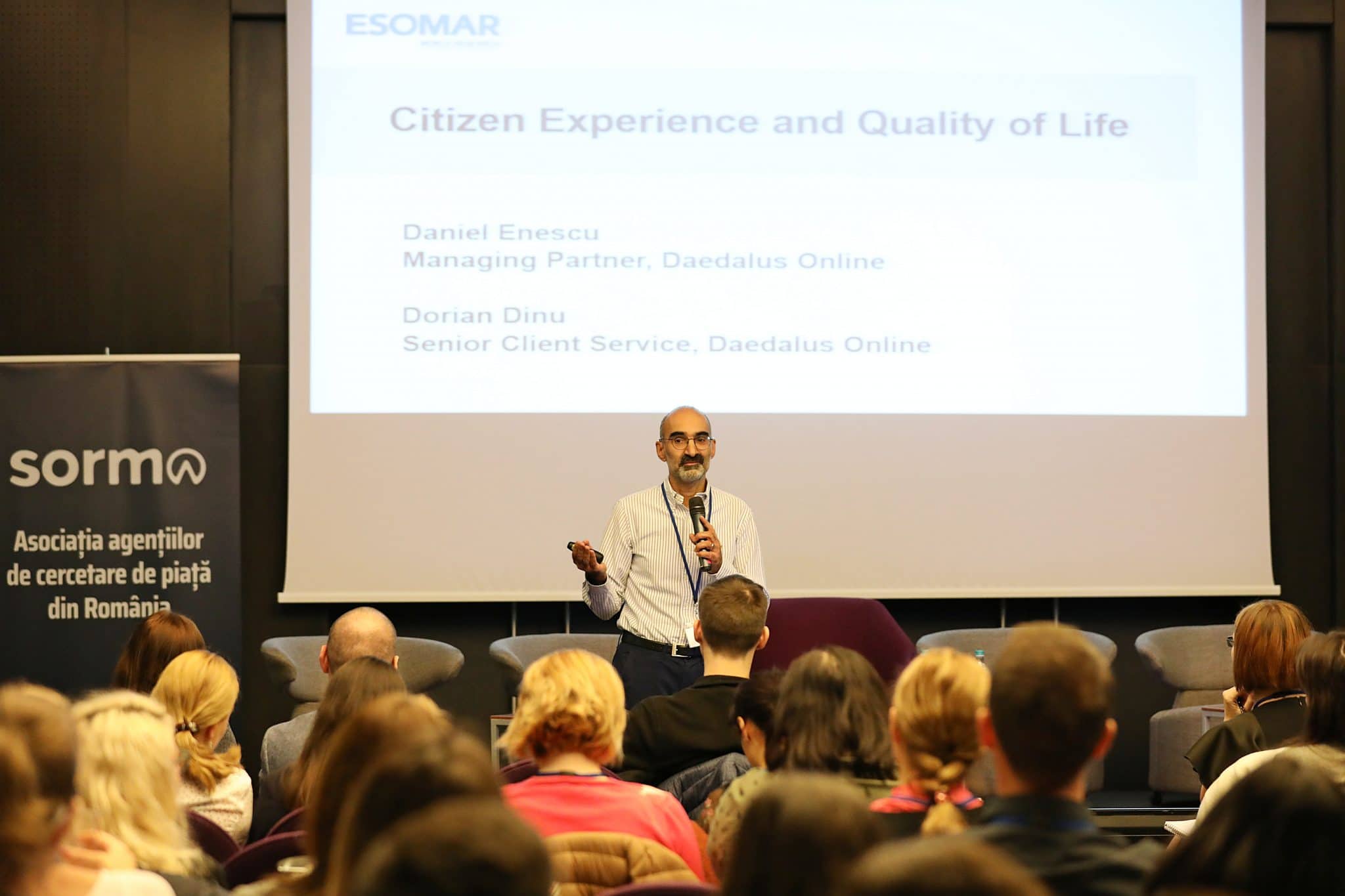 11. Brands and Loyalty Types
One of the presentations that ended the Best of ESOMAR 2019 event drew our attention to the types of loyalty a brand can generate: Classic, Updated and Disruptive.
If the Classic model refers strictly to the brand values ​​that can influence a consumer's purchasing decision, the Updated model speaks about the humanization of brands and the emotional closeness of customers.
The Disruptive model, however, gradually gains ground and carries the concept of customer experience beyond limits, giving customers the power to influence the market.
The presentation of Monica Alexandru, ISRA Center, helped us understand the roles of each type of loyalty:
Classic or Standard Equity – measures the strengths of a brand, helps identify weaknesses and assesses progress by recording useful KPIs for future communication strategies;
Updated or Human Brand – focuses on creating an emotional connection between the brand and the consumer;
Disruptive or Fame, Feeling, Fluency – generates the best context to control the cognitive biases of the types of analysis and standard market measurements.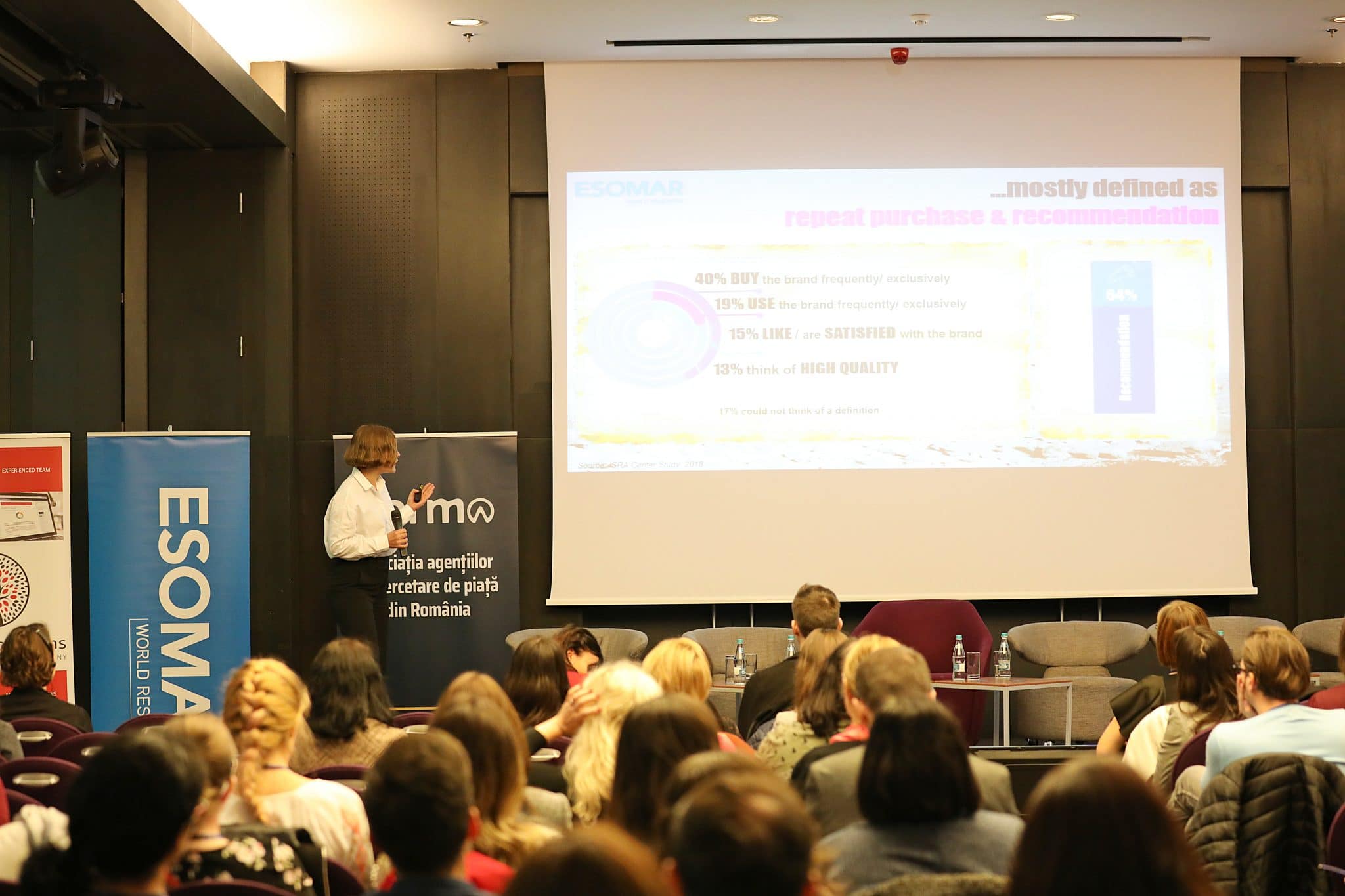 Conclusions
We believe that our fellow speakers presentations have explored topics of interest to both research / marketing specialists and entrepreneurs.
We believe that trends can be uncovered through research, if we allow ourselves to see beyond data and barriers, as Els Dragt said in her presentation. Also, applying Kristin Luck's advice and adding a dash of creativity to the analysis process, but also to the reports, research will no longer be just a volume of figures and tables, but a true discovery, with actionable insights.
According to Stephen Hawking:
Research in the field of physics is not generated by the thought that at the end of the road there is a prize for a discovery, but for the pure joy of the discovery itself.
Our opinion about market research is similar and we are happy whenever we start a new project, because the challenges we face are those that drive us forward.
Trends and opportunities research at MKOR
MKOR's team is always up to date with the latest market research trends, so you can rely on us whenever you need relevant information for your business.
We are ready to offer advice and help anyone that wants to be up to date with his target market (is that you?).
We're waiting to see what our next challenge is. Browse our research portfolio to see what we've worked on and let's do research together 🙂