Discover top market trends and uncover sources of innovation for digital fashion in Romania with the latest industry research from MKOR Consulting's team of experts.
During the past two years, MKOR Consulting has conducted several studies related to fashion consumers – the first to do so in the Romanian market. It is now one of our main fields of expertise and our annual research.
The first edition of the Digital Fashion Consumer Trends Report was released in 2018. This year research is more resourceful and insightful as figures are compared with data from the previous edition, providing a framework to observe evolution in the industry.
The 2019 research edition maintains its indicators for innovation (How does the Fashion Store of the Future look like in the eyes of the consumers?) but also, for the first time, celebrates the brands that foster digital experiences. In this respect, MKOR Consulting proudly launches the awards embedded in the Seals of Excellence.
The Future of the Fashion Consumer
The internet in general, and e-commerce in particular, are transforming the entire apparel and footwear industry. A few years ago, the fashion industry was mainly driven by manufacturers, retailers and designers. Today, the internet empowers consumers and gives them a voice in relation to their favourite fashion brands.
We decided to take a deeper look at consumers' habits and learn more about the link between online and offline fashion and how digital technologies influence the experience of fashion consumers in Romania.
For the first time in Romania, we took consumers' imagination into account to find out what the Store of the Future looks like.
The report shows relevant insights on how Romanian consumers choose fashion items, how they end up in a fashion store, how they buy and what digital experiences they had in Romanian fashion stores.
Digital Fashion Consumer Insights
Understand key issues influencing the digital fashion consumer. The Digital Fashion Consumer Report includes:
General buying habits: preferred locations, frequency, and shopping budgets;
Online behaviour: sources of information, drivers for accessing an online fashion store and traffic sources;
Differentiators: how consumers pick an online store, payment and delivery preferences, and reasons for purchase returns;
Fashion shopping in the digital age: the link between online and offline and the ways they are connected;
Digital experiences: fashion brands that offered unique digital experiences to consumers in 2018;
Top fashion brands: brand awareness, conversion rate and level of satisfaction (Net Promoter Score benchmarking);
Store of the Future: how do consumers see the fashion stores in the future?
Download a sample
Here you can download a sample of our consumer research Digital Fashion Consumer Trends Report 2019.
If you want to get more info regarding this research or you have any questions about how our experts can help your business, don't hesitate to send us a message.
Read the sample report and send us your feedback!
Download Sample
Give me instant access
Request the full report
We can provide you the market research for Digital Fashion Consumer Trends Report and, at your request, we can develop a personalized analysis, adapted to your business needs.
The customized report includes benchmarking analysis between industry and your main competitors, of your choice.
Message us here for a personalized offer!
Get access
Uncover exclusive insights
Key Findings
The main research findings indicate an increased appetite for both new technologies and fashion trends:
Romanians love to dress well: more than half of Romanian consumers usually buy new outfits at least several times a month (56%, up 7 points compared to 2017).
Online stores are mainly used as sources of information: 69% check what's new in terms of products and promotions, while 47% compare prices and 37% just want some inspiration.
Search online, buy offline habits: almost one-third of consumers look online for products they later buy offline. Younger people from Generation Z are more likely to go to brick and mortar stores to test the products, compared to other generations representatives.
Online shopping, from visit to purchase: Facebook advertisements draw more than half of online visitors to online stores.
Romanian fashion consumers love digital: 63% of Romanians have had digital experiences during shopping sprees in fashion stores (+30 points compared to last year).
The future is digital for most Romanians: 21% expect digital, customised experiences in the Store of the Future, which should be accessible on any device and should incorporate new technologies for virtual try-on.
Access the research
Get a sample or the full version
Why purchase the Digital Fashion Consumer Trends Report?
Spot opportunities in the most recent available data in the fashion sector, understand the competitive landscape with our detailed consumer insights and plan your brand strategy and growth projections with our in-depth analysis.
If you are or plan on becoming an active player in the fashion industry in Romania, our research will empower you to make informed, profitable decisions, while saving you time and money.
Get your Digital Seal of Excellence!
We asked over 1,000 consumers about their favourite fashion brands and their digital experiences. Consumers named, assessed and rated fashion brands according to a comprehensive range of criteria.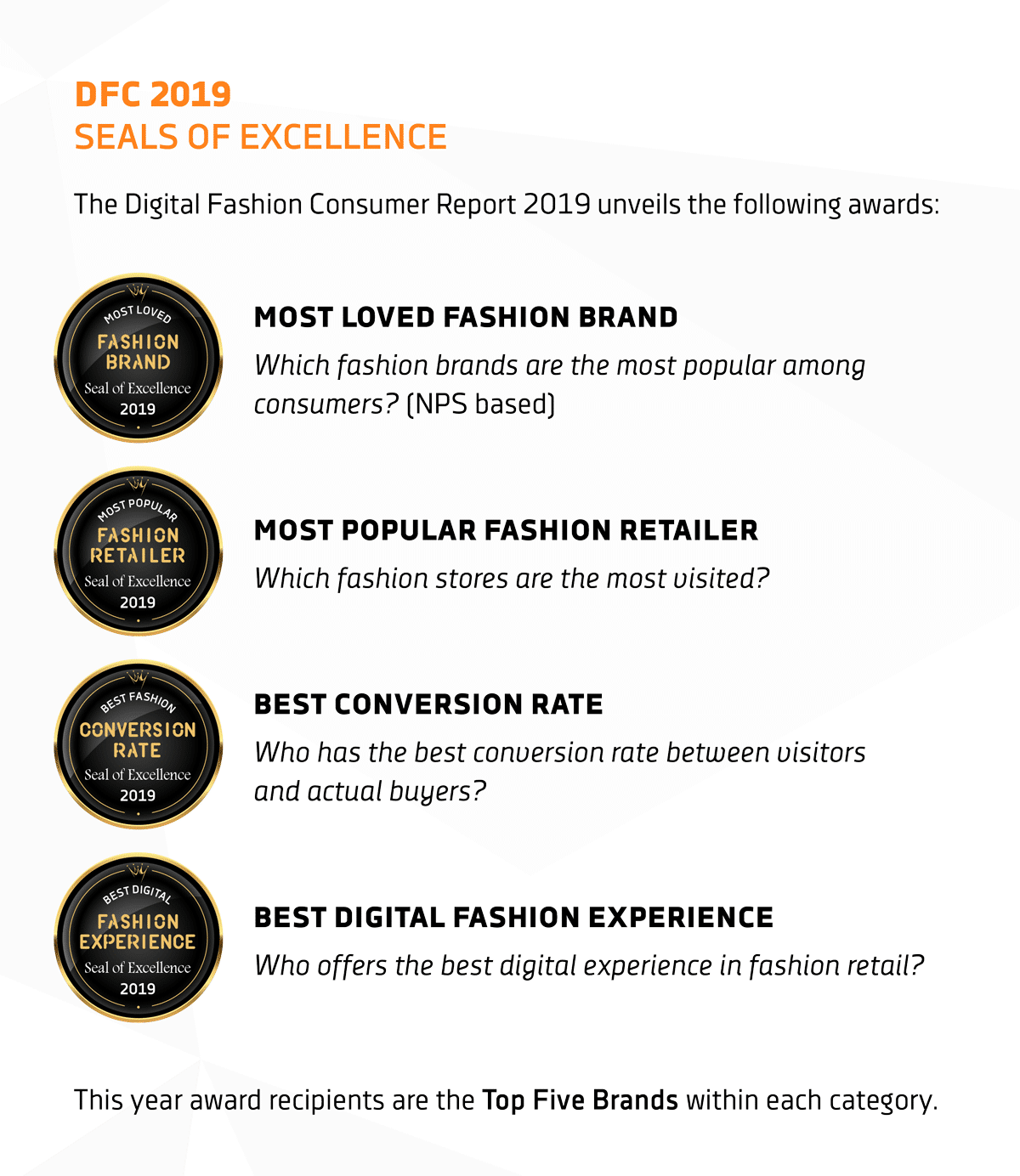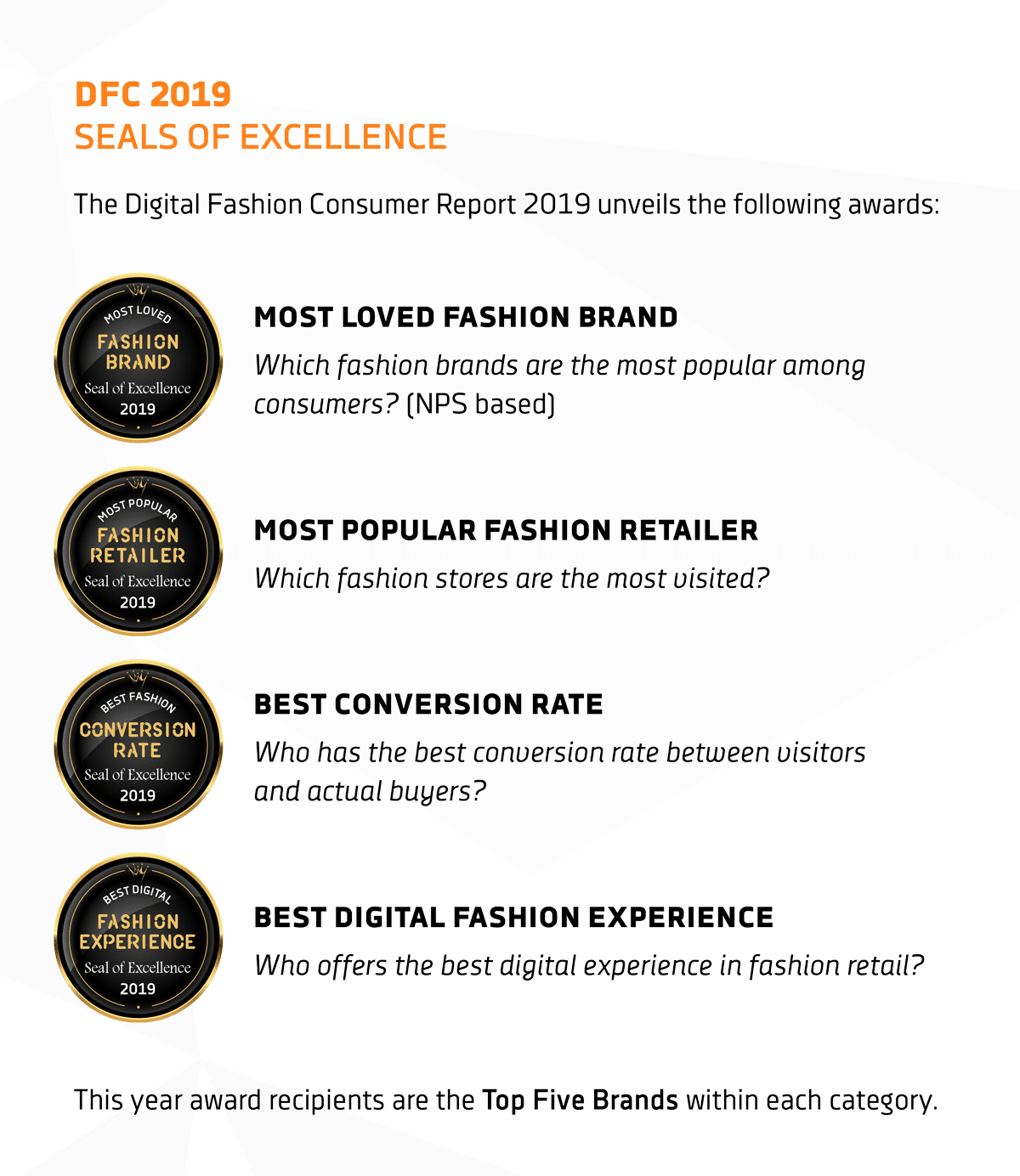 We help brands connect with consumers
Associating your brand with one of our Seals of Excellence is a powerful marketing message that increases product trial, brand awareness, and conversion rates.
Placing one of our digital badges next to your fashion brand:
Represents the acknowledgment that your brand has earned the trust and loyalty of Romanian consumers;
Affirms your superior customer service, integrity, and professionalism;
Boosts brand trust and increases reliance on other reviews and recommendations;
Digital Fashion Consumer Seals of Excellence (DFCSE) are designed to help leverage your brand's recognition among consumers, based on their ratings.
How to gain access
The DFCT 2019 Seals of Excellence were inaugurated to recognize leading brands that made an impact in the fashion industry.
The brands encountered in the Top 5 are entitled to receive their Seal of Excellence, instantly after purchasing the report.
Other interested brands receive a 20% discount for registering and accessing the next year's competition and research report.
We have developed two offer packages that grant complete access to this year's Digital Fashion Consumer Trends Report: