During the two months of isolation and given the unpredictable situation the COVID-19 created this year, people's consumption behavior changed towards activities in outdoor spaces and local traveling. The study Post-COVID Consumer Habits was conducted by the real estate consulting company Cushman & Wakefield Echinox and the research company MKOR Consulting, and shows new consumers perspectives regarding their spare time spending.
Looking at the post-COVID consumer habits: outdoor and sport activities are preferred by Romanians
The restrictions being gradually lifted, the main activities that Romanians want to do more often are walks in the park (32%), spending holidays in Romania (26%) and outdoor sports activities (25%), followed by attending cultural events (17%), workouts at the gym (15%) and visits to children's playgrounds (14%).
On the other hand, the main activities that will be performed less often are related to going out to have dinner at the mall (53%), traveling abroad (45%) and going to the cinema (45%), according to our survey.
A Switch in Consumers' Perspective: Malls are being replaced by E-commerce
Before the COVID crisis, Romanians were avid consumers of shopping centers, 30% of the respondents saying they used to eat at the mall weekly or more often, while 18% of them used to buy clothes at the mall at least once a week. Nowadays, they are being cautious by avoiding crowded spaces and are paying more attention to their financials, thus changing their shopping behavior.
Staying more at home during isolation has shifted customers' attention from offline shopping to the online commerce. This recent change has had an impact not only on existing e-commerce users, but has also made other clients users of online shopping, retailers in this industry wanting to keep their market share and existing customers.
Purchases of electronic and household appliances and home and garden items are more "protected", as consumers seek to upgrade their devices to stay connected and have more options for indoor leisure, but also to improve the comfort of their own homes, in case new travel restrictions are imposed.
After three months of restrictions, in which the main topic of discussion on the public agenda was the evolution of the Covid-19 pandemic and measures to limit the spread of the virus, the reluctancy to physical retail is normal to exist, because it involves direct contact with strangers outside the restrained circle.

However, as people will adapt to the new normality and the medical situation is better managed, we are convinced that the instincts to socialize and experiment will prevail, and people will mostly resume their old habits. It is reasonable to consider that the number of visitors to shopping centers will decrease, but we expect an increase in the number of products and of the average consumption receipt at each shopping visit.

Despite the fact that many of the purchases during this period were performed online, we are confident that people will embrace the reopening of shopping centers both for the shopping experience and for the many social activities that shopping centers offer, things that can hardly be found on the monitor of a device, regardless of its size. – Bogdan Marcu, Partner, Retail Agency, Cushman & Wakefield Echinox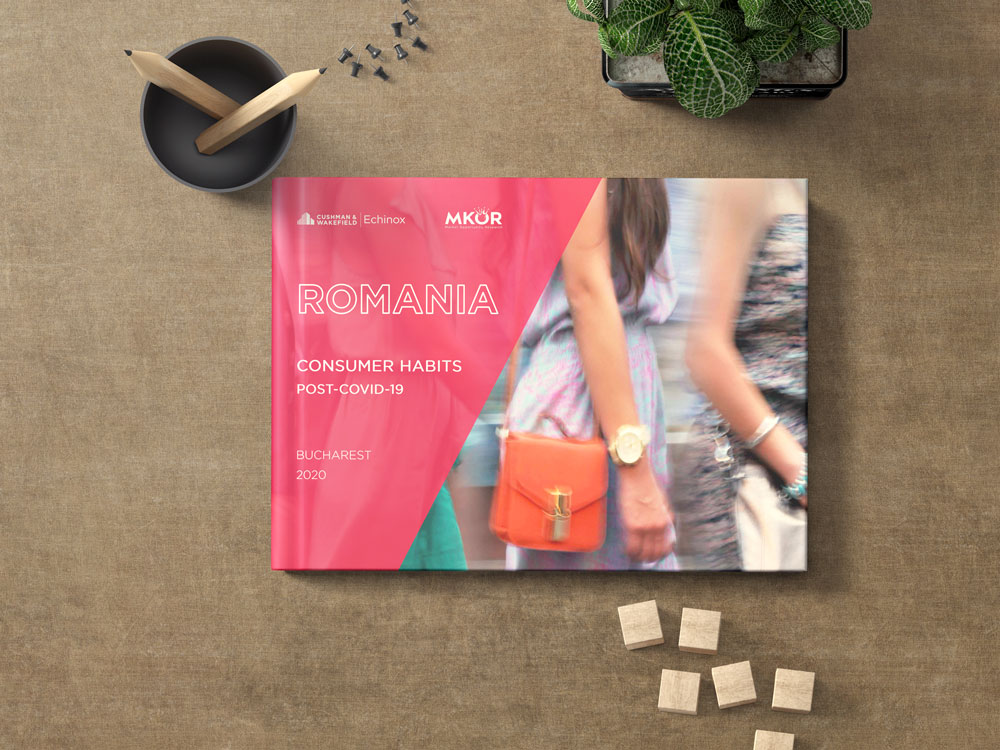 COVID-19 Impact on Retail
The stores considered non-essential within the shopping centers in Romania have seen their activity suspended at the end of March. This process has affected over 9,000 commercial units.
Starting with June 1st, the stores located in shopping centers with an area of ​​less than 15,000 square meters, as well as those with direct access from the outside, resumed their activity, and from June 15th it was announced the reopening of stores located in projects with over 15,000 square meters, while the activity of restaurants and playgrounds still being further restricted.
According to the same real estate and retail consulting company, new openings were postponed due to the state of emergency. Also, there were no new deliveries in Q1 2020, as a result of the Covid-19 pandemic and all the Romanian retail projects have reduced or shut down their activity in late March (with the exception of grocery stores and pharmacies).
In terms of supply, developers are expected to open new schemes or extensions to existing projects totaling around 175,000 sq. m in 2020.
During this period, there was an increasing pressure on prime rents, with owners of the dominant shopping centers in Romania were experiencing a flourishing period before the emergence of the Covid-19 pandemic. The occupancy rates were close to 100%, as most tenants reported double-digit growth rates.
According to MKOR's study on business-to-business COVID-19 impact, 91% of the companies felt affected by the Coronavirus epidemic, with an estimated average impact of -10.2% for 2020 and 95% of the companies had undertaken measures in order to survive the crisis caused by COVID-19.
Methodology
The study was conducted on 600 respondents from all counties of the country. The survey was conducted between 14-18 May 2020 and most of the answers came from people living in Bucharest – Ilfov (45%), Prahova (7%), Constanta (4%), Cluj, Iasi, Timis, Brasov and Galati (3% each).
Stay informed on COVID-19 updates
MKOR Consulting stays connected during this period, and follows new trends on the market, while trying to illustrate some of the most recent in-house work, or along with its partners. Stay informed by subscribing to our newsletter!